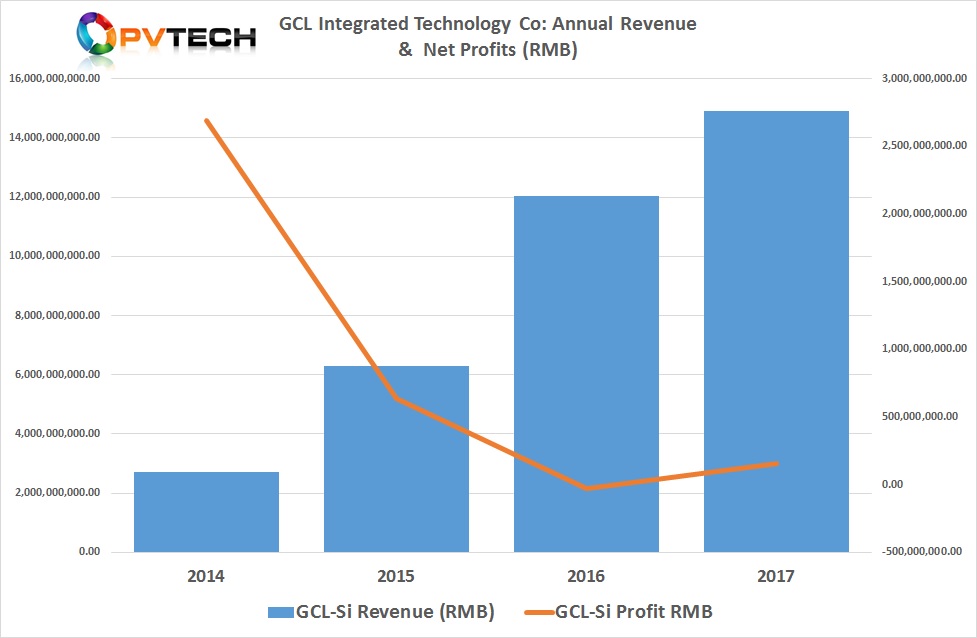 'Silicon Module Super League' (SMSL) member GCL System Integrated Technology (GCL-SI) expects to report a small profit for the first half of 2018, due to late positive developments after previously guiding a small loss in the reporting period.
GCL-SI said it expected to report a net profit (attributable to shareholders) in the range of RMB 20.41 million and RMB 30.02 million (US$3.05 million to US$4.49 million) for the first half of 2018, compared to a previously guided loss in the range of RMB 110 million to RMB 160 million, although this figure was subsequently raised to an expected loss of around RMB 200 million (US$30 million)
The previously expected loss had been attributed to a slowdown in the construction PV power plant projects, resulting in a decrease in the demand for the company's solar modules. This was primarily due to the impact of Section 201 trade case in the US and uncertainty over threatened import tariffs in India.
However, GCL-SI noted that strong seasonal demand in the second quarter was better than expected, securing fixed module pricing on some major orders, while benefiting from a rapid price decline in upstream raw material prices.
Supporting the turnaround was said to have been continued cost control and budget management practices in the reporting period.
GCL-SI also noted that its shift to overseas sales accelerated in the reporting period, with the company's share of sales to overseas markets having increased from 14% in the first half of 2017 to around 50%, driven by large orders, despite the change on solar policies by the government in China.