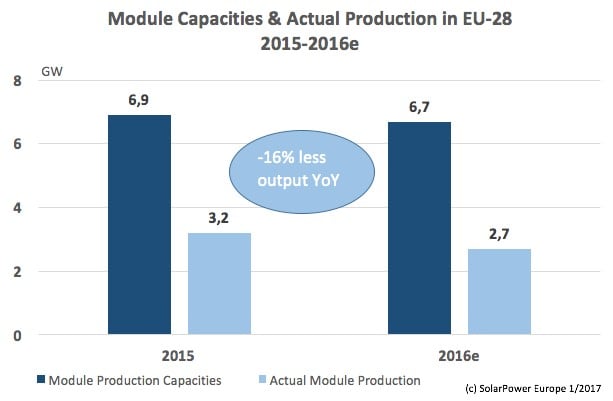 European solar trade body, SolarPower Europe has reported in a new survey of PV manufacturing in the EU that module production and utilisation rates have continued to decline in 2016.
According to the survey, nameplate annual PV module assembly capacity in EU countries stood at 6.7GW in 2016, down 3% from 6.9GW at the end of 2015.
However, the stark figures relate to production output and utilisation rates. The trade body noted that the survey revealed that production output was said to have declined by 16% in 2016 to around 2.7GW, down from 3.2GW in 2015.
Production utilisation rates declined from only 46% in 2015 to 40% in 2016.
Michael Schmela, Executive Advisor and Head of Market Intelligence at SolarPower Europe stated, "Our survey shows that unfortunately many of the EU module production facilities are simply ghost capacities."
According to PV Tech's ongoing analysis of global PV manufacturing capacity expansion announcements, Germany accounted for almost 700MW of EU-based production expansions in 2016, while the Netherlands restarted 200MW of solar cell production and Italy planned 50MW of new module assembly.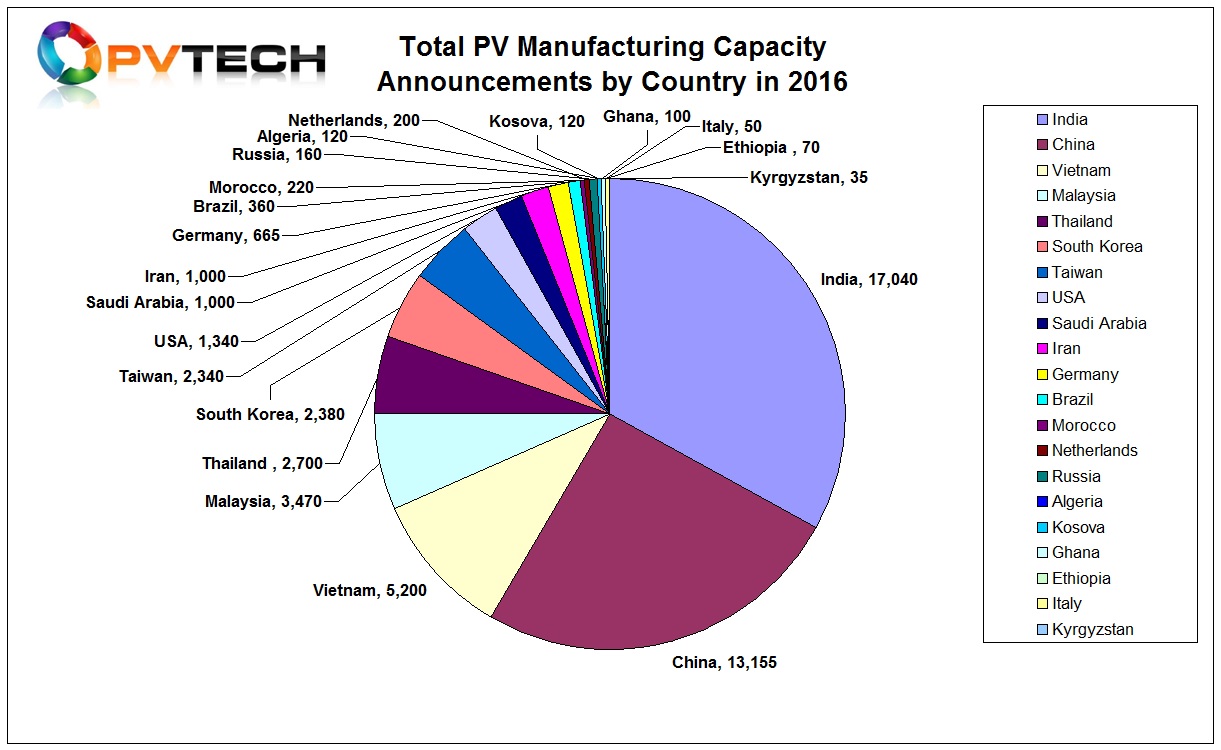 This contrasts with over 1,600MW of planned expansions announced in 2015 with Germany accounting for the vast majority at nearly 1,500MW.
However, several bankruptcies, production plant closures and idled lines at EU-based manufacturers occurred in 2015. Yet some production plant closed due bankruptcies in 2014 and 2015 have restarted production under new ownership, some such as aleo solar and Solland Solar acquired by Asia-based manufacturers, Sino-American Silicon and Trina Solar, respectively.
Lower nameplate capacities and lower utilisation rates could be primarily attributed to EU's largest PV manufacturer, German-based SolarWorld, which announced in September, 2016 around 500 temporary workers at its manufacturing facilities in the country, would lose their jobs.
SolarWorld accounted for over 1GW of nameplate solar cell production capacity in the EU in 2016, around 1GW of wafer and module assembly capacity and 1.25GW of multicrystalline and monocrystalline ingot nameplate production capacity.
According to the SolarPower Europe survey, solar cell manufacturing capacities remained at almost a constant level in 2015 and 2016, at around 1.8GW. This would be primarily due to the restart of cell production in the Netherlands and new capacity in Germany.
Lower solar cell capacity levels compared to module assembly have stabilised since the relocation of solar cell production (230MW) by Hanwha Q Cells from Germany to Malaysia took place in 2015.
However, the EU trade body believes that the declining utilisation rates and emergence of ghost nameplate capacity is directly related to the continued imposition of anti-dumping policies on PV modules made in China.
James Watson, CEO of SolarPower Europe added, "The European Commission has missed a chance to support European module manufacturers in its recent recommendations on the expiry review of the EU-China trade case. The proposed maintenance of anti-dumping and anti-subsidy duties even for a period of 2 more years will negatively affect the entire solar sector in the EU. If Europe really wants to benefit from low-cost solar power, the Commission and the EU Member States have to say 'No' to an extension of the duties."
The trade body also noted that low demand for solar in Europe due to FiT changes and local module production facilities lacking the scale of overseas rivals have also contributed to the overall manufacturing decline.
However, the biggest decline in manufacturing in the EU coincided with major German FiT reductions and a chronic global period of overcapacity and plummeting prices. A large number of manufacturers across the supply chain that included polysilicon, ingot/wafers, c-Si solar cells and modules as well as thin-film producers in the EU, exited the sector, closed plants or went bankrupt.