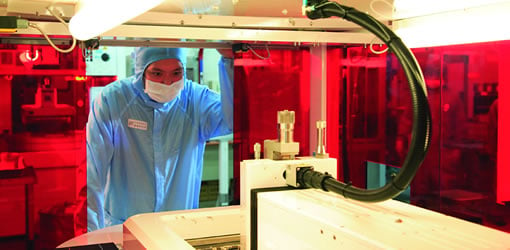 Could 2016 really be the year for PERC to become mainstream for cell manufacturing, and continue to drive forward p-type c-Si performance levels? If so, then PERC would rightfully become the must-have upgrade route for many of the cell makers that typically wait for technologies to be proven, and then move quickly to retain competitiveness.
Despite all the announcements on PERC, there are still only a few companies that can lay claim to having produced more than 100MW of output by the end of 2015, one of them being Gintech. Therefore, Gintech's recent announcement of having taken PERC cell efficiencies to above 21% is potentially more significant than many of the announcements for hero efficiencies using pilot-line and research tooling.
PERC of course is just the badge being used to capture the latest route to driving p-type efficiencies higher, both on mono and multi, and really ought to be considered more as rear-side processing upgrades within which passivation layers are deposited. Indeed, this reminds us that front-side improvements (and that of bulk wafer quality) have been the focus over the past few years and are considered by many as having reached a limit without any significant tool and material changes.
Moving to the rear side also buys the industry time before any return to the front-side improvements, either through selective emitters or multi-grid busbar approaches.
PERC in demand
When the team at PV-Tech did its research into getting the correct mix of topics and speakers for our inaugural PVCellTech conference, taking place in Kuala Lumper in Malaysia on 16-17 March 2016, we spoke to the key technologists at every leading cell manufacturer in the PV industry, in addition to the main equipment and materials suppliers for cell production.
By far, the most requested topic at the event was that of PERC! To address this at PVCellTech, we can now reveal that CTOs from the top five PERC manufacturers will be speaking: Hanwha Q CELLS, Gintech, SolarWorld, Sunrise Global and REC Solar.
The second most requested topic centred round n-type cell manufacturing, with no shortage of requests for some of the new entrants to cell manufacturing to be speaking on their plans for ramping to mass production. SunPower and Panasonic are each confirmed to speak, providing a fascinating backdrop to presentations from the likes of First Solar (TetraSun).
In fact, despite the market-share gains of p-type multi in the past few years, there remains a strong appetite from CTOs of these leading cell makers to fully understand where n-type is today, and whether there is a viable route from p-type to n-type that does not need wholesale tooling change at the multi-gigawatt level.
The other common request was: what next, after PERC? In this respect, Gintech's recent announcement of augmenting their Gen 3 PERC technology to include laser doped selective emitters (LDSE) could be seen as setting the new standard for mass production 12-18 months from now.
Indeed, one of the stumbling blocks on the last (failed) efforts to implement LDSE was getting advanced laser processing to work in cell lines. However, as a key process tool for PERC (contact openings), lasers are being implemented in what could be the first real laser-based application for c-Si cell manufacturing. Having lasers performing front-side doping and rear-side openings may have seemed far-fetched a few years ago, but if Gintech can transition volume production from this combination, there will be no shortage of followers.
Details on how to register to attend the PVCellTech event can be found here.