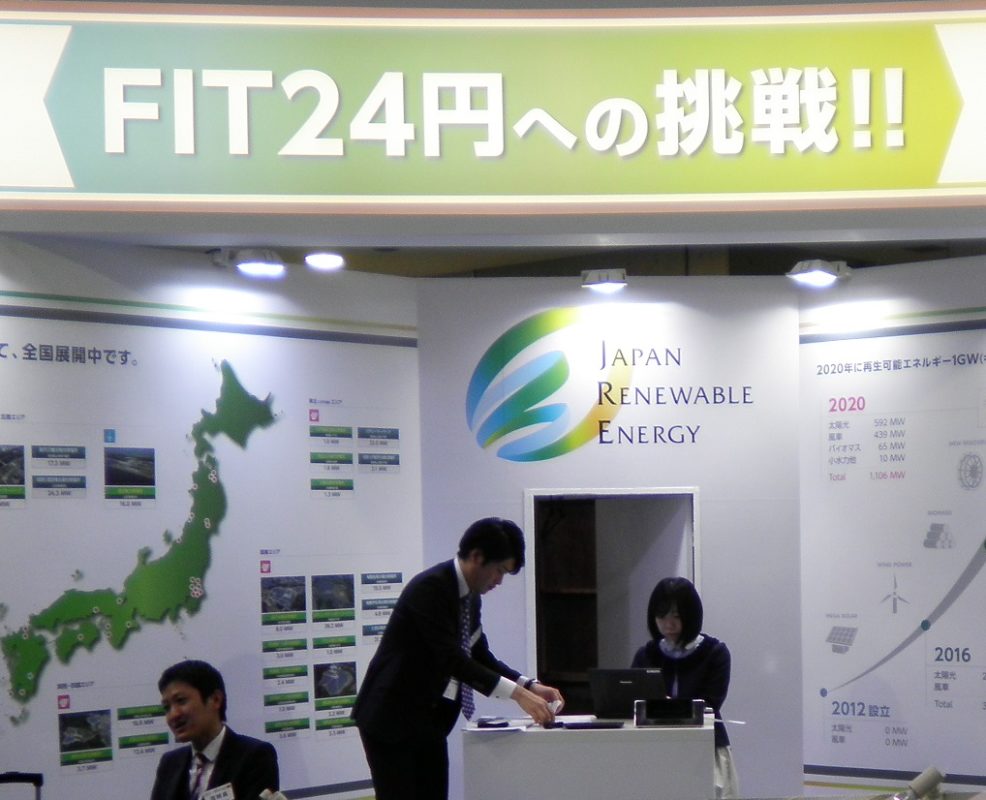 Japan Renewable Energy Corporation, a developer closely affiliated with investment banking group Goldman Sachs, will be happy to take on and complete even 1% of Japan's unbuilt utility-scale solar projects, the company has said.
Manabu Suzuki, a general manager in the solar power and project execution department of JRE, spoke with PV Tech at the PV Expo show in Tokyo today. JRE and vertically integrated thin-film PV company Solar Frontier, also headquartered in Japan, have formed a collaboration that could work on as much as 300MW of projects.
As previously reported, in addition to new sites and projects, the two companies are looking for projects that have been approved for the feed-in tariff (FiT) in the past three years that the scheme has existed, Suzuki confirmed.
Through the collaboration, Solar Frontier is supplying modules and other equipment and delivering the projects through its downstream engineering, procurement and construction (EPC) business. The pair previously claimed that combining JRE's access to capital with Solar Frontier's sourcing of components could lower costs by 30%.
At the Tokyo show, JRE's stand touted the fact that despite the lowered FiT of just ¥24 per kWh that the projects will receive, the company believes they will be viable.
The FiT's introduction in 2012 attracted many new entrants to the PV market in Japan, some with little technical knowledge and sometimes not even full rights to the land their projects would be sited on. Earlier this year it transpired the government has laid down an ultimatum to developers – prove the projects will go ahead by securing grid connection and powr purchase agreements with regional utilities, or lose the right to the FiT and therefore the project altogether.
"We have developed a scenario where projects can still be profitable at this [lowered] FiT rate. We are seeking new sites as well as rights to the many projects that are looking like being cancelled – there are around 20GW of those," Suzuki said.
"If we can obtain only 1% of that amount, that's still 200MW, a lot. We want to hunt out those sites."
'Strategic and strongly competitive pricing'
According to Suzuki, Solar Frontier was keen to make sure its Japanese factories remain at a good level of utilisation in order to remain in operation and therefore offered its components and EPC services to the collaborative effort with JRE at "strategic and strongly competitive pricing". Even the fact that the projects will receive this year's lower FiT, rather than the much higher FiTs they were originally targeting would not deter the pair, he said.
"We had a lot of discussions with Solar Frontier and within that, they said however high or low the FiT is, they want to sell panels to projects in Japan from their factories here. So they were able to offer us a strategic pricing that could work for them, a competitive and strategic price others out there would probably not be able to offer."
Suzuki said he had been told that developers of these unbuilt projects only have until the middle of this summer to show the requisite agreements are in place. Many of those developers who have wavered over building them are in fact in a position to not even be able to afford the necessary fees and deposits to secure those agreements, he claimed, meaning that July would have meant a dead end for those projects anyway.
Golf courses and other tricky terrain need innovative solutions
The projects JRE and Solar Frontier will work on will vary in size, from multiple megawatts to the smallest being around 2MW.
"There aren't a huge number of projects over, say 10MW that are available, but even at 2MW per project, again, if we can get 50 of those, that's 100MW," Suzuki said.
While the majority of components and services will be sourced by Solar Frontier, some specialist partners might still be sought. Japan's lack of suitable open field sites for PV, also the focus of a recent article in PV Tech Power Volume 6, means that disused golf courses are being used to site projects, for example, while the country in general has a mountainous topography.
"On the technical side of things, innovative engineering solutions are still desirable. For example, on the many projects being proposed for former golf courses that have undulated terrain, string inverters will be more suitable than central ones.
"Indeed, you need to be innovative with things like mounting systems, for instance putting in flexible fixings on rocky ground. We might still seek partners with innovative engineering solutions to get some of these projects going."