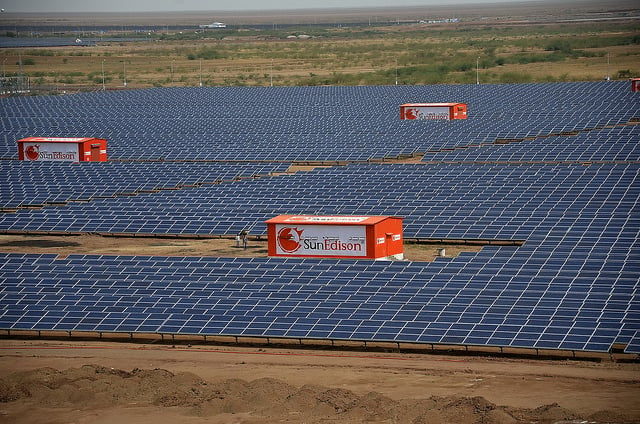 Greenko Energy Holdings (Greenko) has completed its acquisition of SunEdison's 587MW Indian solar and wind portfolio for US$392 million, according to consultancy firm Mercom Capital Group.
The portfolio includes 214MW of operational solar plants, 325MW in various stages of development and 900MW of projects not yet in the pre-construction phase, which Greenko might choose to develop going forward. Projects are located across Tamil Nadu, Karnataka, Telangana, Andhra Pradesh and a 1MW rooftop PV project in Uttar Pradesh. There are also 48MW of wind projects.
The acquisition involved a cash payment of US$42 million and project-level debt of US$350 million with an average interest rate of 11.3%.
Amplus Energy has already acquired 5MW of SunEdison's commercial rooftop projects in operation or under development, while SunEdison's yieldco TerraForm Global has acquired 177MW of operational PV projects.
The Greenko acquisition of SunEdison is the second largest Indian solar project pipeline acquisition this year, after Tata Power's acquisition of Welspun Renewable Energy's 1.14GW renewables portfolio for US$1.4billion.