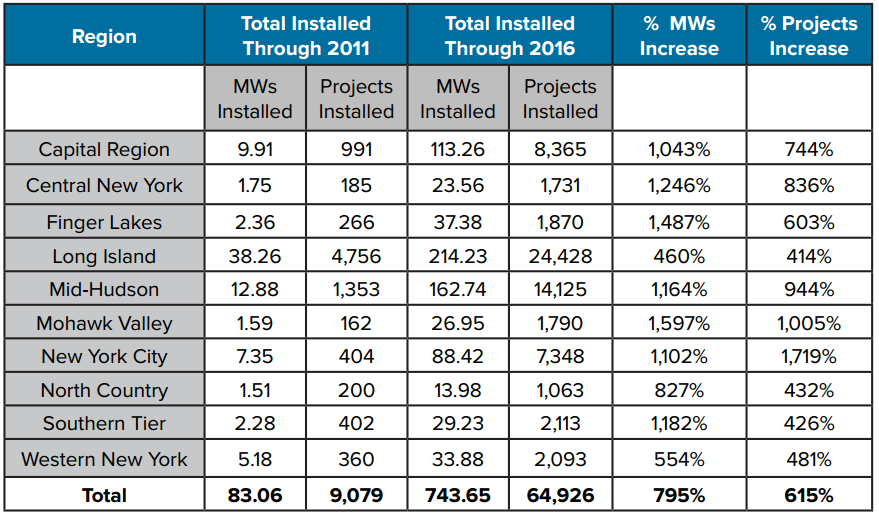 In the first quarter of 2016, the US installed 1,665MW of solar PV, with 14.5GW of installations forecast by GTM Research and the Solar Energy Industries Association (SEIA) for 2016 – down by 1.5GW than was previously predicted.
GTM Research analyst Colin Smith told PV Tech that this shortfall is largely due to the ITC extension: "Many projects, before the ITC extension, were scheduled to come online in 2016 but not required to deliver power to their offtakers until 2017. Once the ITC was extended, developers were able to push out their expected CODs without anything holding them back. We also found several developers had built out large pipelines for 2016 and were going to bring some projects online late despite financial penalties simply to better manage their pipelines."
Nevertheless, solar beat out coal, natural gas and nuclear installation figures combined; accounting for 64% of all new electric generating capacity online for Q1 2016.
The installed capacity for Q1 2016 is a 24% increase over the Q1 2015 figures and also constitutes the largest non-Q4 ever recorded. Residential PV was quieter in this quarter than its input for the preceding quarter, which GTM and SEIA have put down to "seasonal effects". However, the residential installations still added more than half a gigawatt for the fourth consecutive quarter.
The report also states that for the first time ever, commercial PV installed more than 300MW in back-to-back quarters. In addition, this is the 10th consecutive quarter where installations exceeded a GW. This growth enabled the US to reach its 1 million installation milestone in Q1 2016, representing 27.5GW of operating solar PV capacity across the country.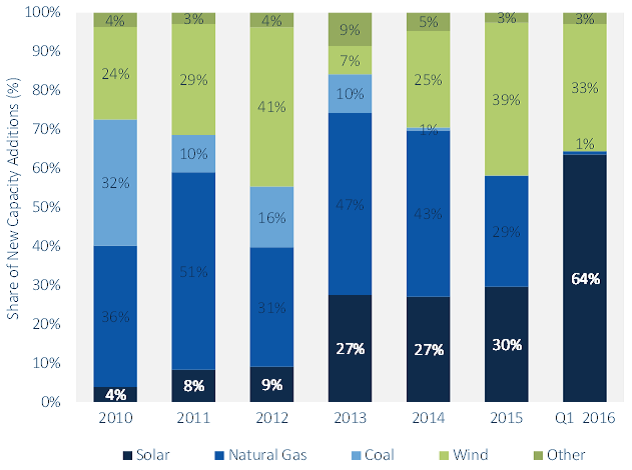 Effects of the ITC extension
Utility PV is expected to spearhead the majority of the demand – accounting for nearly three quarters of new capacity. The report also pinpoints the extension of the federal Investment Tax Credit (ITC) as a key driver for the solar PV market throughout this year and through the end of this decade.
"However, in 2016, the rate at which the US solar PV market grows in each market segment will be impacted by the timing of the recent federal ITC extension, along with the timing of several state-level policy developments that happened in late 2015 and early 2016," the report states.
The report also attributes a forecasted annual drop in both the residential and non-residential markets in 2017 to the timing of the ITC extension, while the US solar market is still expected to drop on an annual basis due to the aforementioned pull-in of utility PV demand in 2016. Moreover, the year-over-year downturn for utility PV has softened due to a growing number of projects that have pushed out completion dates from this year to 2017.
Market segments
Residential PV
The new figures for residential PV are up 1% from the previous quarter and up 34% over Q1 2015. While an average growth rate of 11% is forecasted for the preceding four quarters, this quarter has seen a residential PV slump – which the report attributes to "the inevitable levelling-off of demand after years of persistently robust growth."
Commercial PV
In contrast, Q1 2016 figures for commercial PV have fallen 6% as compared to Q4 2015, but are up 36% compared to Q1 2015. As recently reported by PV Tech, GTM has said this segment's growth has become stagnant, which can be linked to problems ranging from development specific issues to particular sub-segments and issues with customer acquisition, as GTM analyst Nicole Litvak explained in an interview.
"Over the past six months, the non-residential PV segment has shown glimpses of a market that can grow across a more diverse set of project development opportunities," said Cory Honeyman, GTM Research's associate director of US Solar. "While a number of policy- and customer-driven bottlenecks continue to challenge the market, a handful of state policies established over the past half year should unlock new customer-sited and offsite development, with Fortune 500 corporate customers playing a key role in supporting the market's rebound."
Utility-scale PV
Utility PV is expected to drive the majority of demand, accounting for nearly three quarters of new capacity. More than 10GW of utility PV is slated to come on-line this year. At least another 4.5 GW of utility PV installations are expected to be nearly or fully finished with construction in Q4 2016 and official commercial operation expected in 2017. However, it is utility-scale PV that is to shoulder most of the forecast shortfall. "The lions share of this change came from utility PV segment where we revised our forecasts to reflect additional spillover of projects from 2016 into 2017," said Smith.
In addition, Q1 2016 marks the 12th consecutive quarter in which utility PV has added at least 500MW. Contracted utility PV pipeline projects currently total 21.4GW.
By 2019, US solar is expected to resume year-over-year growth across all market segments. And by 2021, more than half of all states in the U.S. will be 100+ MW annual solar markets, bringing cumulative U.S. solar installations above the 100GW mark.
This article has been updated to include comments from GTM analyst Colin Smith.