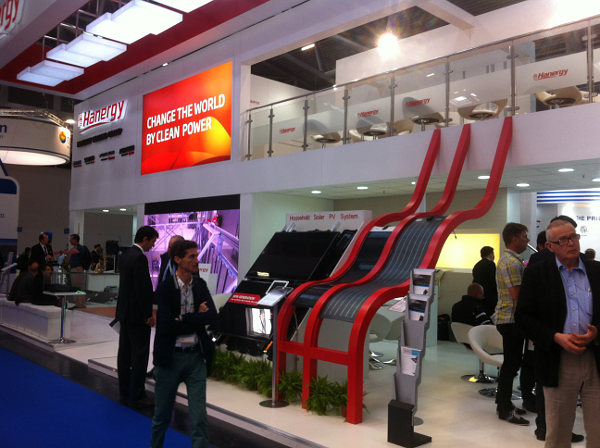 Struggling Hanergy Thin Film Power Group has claimed to have increased revenue by around 50% and returned a profit for the first half of 2016, compared to the prior year period.
In a Hong Kong Stock Exchange filing, Hanergy Thin Film said that sales in its downstream rooftop (residential & commercial) systems business had increased by over 200%, compared to the prior year period.
The company had previously reported 'downstream' external sales totalling around US$23.8 million in the first half of 2015, indicating sales in the current year period topped US$71 million.
With previous plans to use its a-Si thin-film modules in utility-scale projects purchased by its parent company, Hanergy Holding Group were suspended on previous non-payments and failure to supply sufficient quantities of modules, the residential and commercial rooftop market has been a key focus, despite being a small revenue generator in 2015.
However, Hanergy Thin Film also said that its revenue from its upstream a-Si thin-film manufacturing production line delivery business actually increased by over 25%, compared to the prior year period, when sales controversially topped US$249 million
This area of business activity has been highly contentious after a series of large orders were placed with Hanergy Thin Film from companies with no previous experience of either manufacturing or BIPV and utility-scale PV power plant construction, while the transactions were pegged to the company issuing new shares to the customers that had a higher value than the large upfront deposits.
With trading in Hanergy Thin Film's shares suspended in May 2015 and remain suspended to this date, all of the turnkey production line deals were cancelled, stretching back to 2014, which started with Shandong Macrolink New Resources Technology.
Indeed, recognised revenue of around US$240 million in the first half of 2015 financial statements were attributed to Shandong Macrolink, though in the company's 2015 annual report, revenue from the customer was around US$20 million, attributed as an initial down payment with the rest remaining in outstanding receivables.
Hanergy Thin Film said that it expected to release full financial results for the first half of 2016 at the end of August. The company did not provide further details on the claimed profitability for the current period.
The company reported a non-cash loss of around US$1.58 billion in 2015 and its parent company and its affiliates had failed to make due payments of around US$680 million.