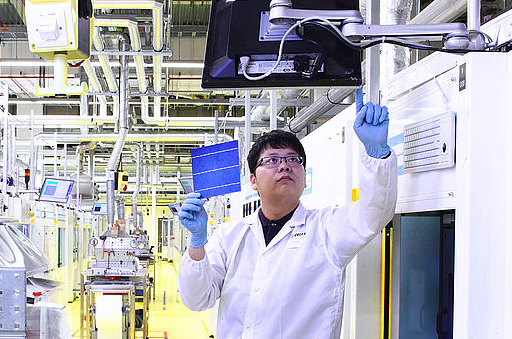 'Silicon Module Super League' (SMSL) member Hanwha Q CELLS has reported second quarter 2016 financial results that exceeded key guidance metrics, while reiterating upwardly revised module shipments for the full-year.
Hanwha Q CELLS reported second quarter 2016 revenue of US$638.0 million, up 23.9% from US$514.9 million in the first quarter of 2016 and up 88.8% from US$338 million in the second quarter of 2015.
The company reported gross profit US$151.2 million, compared with US$109.0 million in the first quarter of 2016 and US$58.4 million in the second quarter of 2015.
Gross margin was 23.7%, compared with 21.2% in the first quarter of 2016 and was higher than the 20% margin guidance previously given. Hanwha Q CELLS reported a net loss of US$13.7 million in the quarter, due to a change in fair value of derivatives in hedging activities, compared with a net loss of US$15.3 million in the first quarter of 2016 and a net gain of US$1.2 million in the second quarter of 2015.
However, cash and cash equivalents at the end of the second quarter stood at US$255.4 million, compared with US$327.3 million as of March 31, 2016.
Shipments
Although the company did not provide solar module shipment figures and is not expected to report quarterly shipment figures in the future, due to competitive reasons, the company had previously guided shipments to be in the range of 1,100MW to 1,150MW.
Given the higher than expected revenue growth and higher gross margins in the second quarter, compared to the previous quarter, the company's module shipments have more than likely exceeded the high-end of the guided range.
Importantly, Hanwha Q CELLS reiterated full-year shipment guidance at 4,800MW to 5,000MW, indicating second half shipments to average around 1,250MW per quarter to meet guidance range.
The company is also not expected to provide a breakout of regional sales/shipments in the future, due to the competitive issues.
In a shortened earnings call that did not include a Q&A session, management did not directly comment on slowing demand issues but did comment on industry overcapacity fears.
Jay Seo, Hanwha Q CELLS CFO said, "Since May, we are sensing elevated level of nervousness among analyst and investor communities driven by concerns over demand slowdown and new capacity addition creating low visibility into the second half and into 2017. While we do not dismiss these market concerns, we continue to believe the longer term growth prospects still remain intact. As we have witnessed in the past cycle in our industry more disciplined well-managed companies will navigate through better than others and they will come out of the cycle even stronger. In hindsight, we cannot stress enough that our decision to merge former SolarOne and Q CELLS in early 2015 and subsequent global restructuring efforts were very critical and helped our operation highly competitive in the market."
Manufacturing update
Hanwha Q CELLS noted that it had annualized production capacities of 1,500MW for ingot, 900MW for wafer, 4,000MW for cell and 4,000MW for module assembly at the end of the second quarter of 2016.
However, in-house capacity expansions of solar cells and module assembly through the end of the year would only reach 4,100MW, respectively. Around 1,200MW of expected cell and module expansions was transferred to an affiliate, Hanwha Q CELLS Korea Corporation in the quarter, resulting in the capacity expansion figures coming off Hanwha Q CELLS reported nameplate capacities.
"During the second half of this year and beyond, our management focus will continue to be implementing disciplined yet flexible manufacturing and sales operations, while adopting into continuously changing market environments cost effectively," added Seo.
The company also noted in the earnings call that the company would allocate approximately US$180 million to capital expenditure in for the full-year, which included US$100 million for capacity expansion and US$80 million for manufacturing technology upgrades and certain R&D related expenditures.