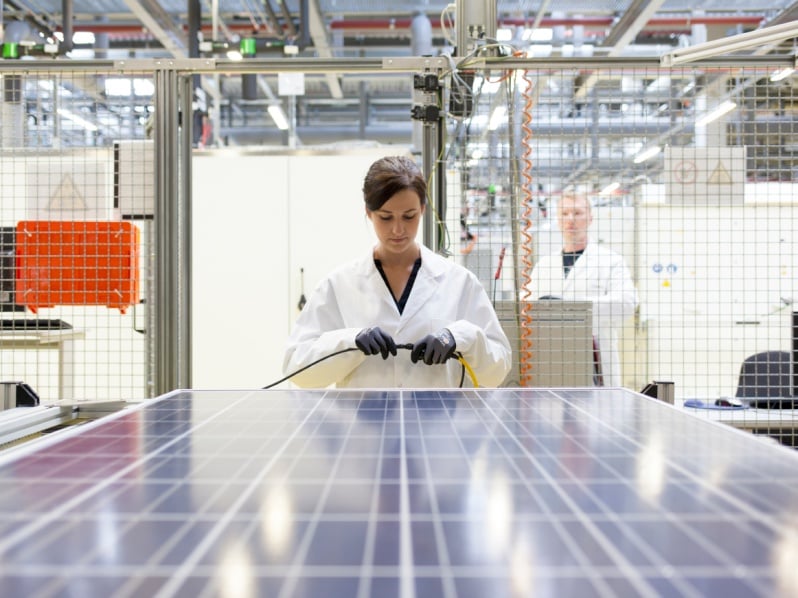 'Silicon Module Super League' (SMSL) member Hanwha Q CELLS reported 5,438MW of modules recognised as revenue in 2017, up 18.7% from 2016. However, revenue was US$2,177.4 million, a decrease of 10.2% from 2016.
The SMSL had previously guided PV module shipments of 5,500MW to 5,700 MW in 2017, while guiding 2018 module shipments to be in the range of 6,000MW to 6,200MW.
Hanwha Q CELLS had an in-house name plate capacity of 4,300MW for solar cells and modules at the end of 2017, unchanged from the previous year.
The company had previously guided capital expenditures in 2017 to be around US$50 million, which would be allocated to manufacturing technology upgrades and certain R&D related expenditures.
However, the SMSL'S capex in 2017 was US$66.1 million, while R&D expenditure was down 51.2% to US$24 million, compared to US$49.2 million in 2016.
In 2018, Hanwha Q CELLS expects a slight increase in capex, due to initial spending on its new integrated manufacturing operations in Turkey. The company guided capex of US$90 million in 2018 and an allocation of around US$37 million to the new plant in Turkey.
The JV manufacturing plant in Turkey is in response to building a 1.3GW (DC) PV power plant in the country which is expected to be operational in 2021.

Having shipped in the region of 2GW of PV modules to the US in 2016, primarily the utility-scale market. The SMSL said that it would continue to service the US market, shifting emphasis to the residential market with its high-efficiency mono-PERC half-cell products.
However, the company noted that its fourth quarter 2017 sales increased due to stockpiling in US, specifically for the utility-scale market prior to Section 201 tariffs.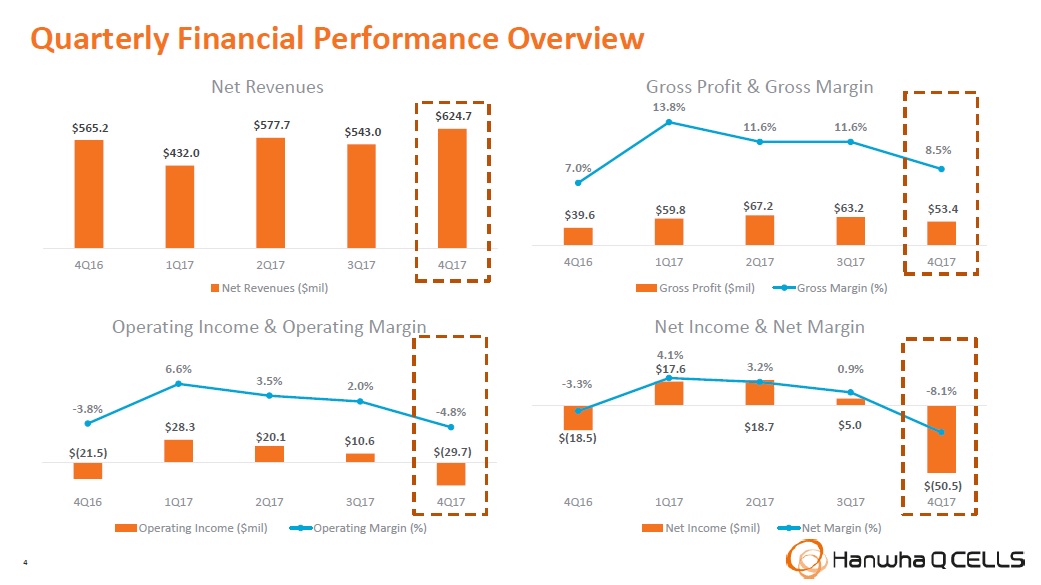 Total net revenues in the fourth quarter of 2017 were US$624.7 million, up 15.0% from $543.0 million in the third quarter of 2017. Revenue was the highest in 2017 in the fourth quarter.
Gross profit in the fourth quarter of 2017 was US$53.4 million, down 15.5% from US$63.2 million in the third quarter of 2017. The company also reported a loss from operations in the fourth quarter of US$29.7 million, compared with income of us$10.6 million in the third quarter of 2017.
The SMSL also reported an operating margin of negative 4.8%, compared with 2.0% in the third quarter of 2017.
The company reported a full year 2017 gross profit of US$243.6 million, compared with US$440.3 million for the full year 2016. Gross margin was 11.2%, compared with 18.1% for the full year 2016.