The PV ModuleTech 2017 conference is just over three weeks away, taking place in Kuala Lumpur, Malaysia on 7-8 November 2017.
In our research leading up to the event, three words have consistently been voiced across almost all key stakeholders in the life cycle of a PV module: quality, bankability and risk.
These three module metrics form the raison-d'etre for the new PV ModuleTech 2017 conference.
Expectation and excitement from the speakers and participants is growing by the day, with many firmly believing that the event will become the industry's annual benchmark gathering to learn, discuss and disseminate what module manufacturers, their equipment/materials suppliers, and the entire range of organizations involved in the transfer of a PV module from fab to site, need to know and enact going forward.
This article offers a preview of the companies involved in PV ModuleTech 2017, and the themes that will be explained; and how developers, EPCs and investors will be among the main groups that stand to learn the most from the event for their ongoing business operations.
The need for an event focused on module quality, bankability & risk management
Often, when developers and EPCs seek to work out module suppliers for large-scale sites, they are prone to descend upon the major global exhibitions and have a sequence of booth meetings with sales and marketing teams from the different module suppliers. For some, they even work off misleading Tier-1 tables, and then look for the lowest module prices. It is a recipe for disaster in terms of 20-30 year site yields, and all too often ends up with disputes between asset owners, asset managers and contracted O&M's about why sites are consistently missing performance ratios.
The more sophisticated and diligent side of the industry puts far greater emphasis on undertaking the necessary checks on module quality and supplier capabilities, with reliance on leading certification labs, factory auditors and independent engineers being the modus operandi to circumvent risk for banks and investors.
Whichever option you take however, it is clear that having a strong and deep understanding of every aspect of what one broadly calls module 'quality' is not only good working practice, but essential to ensure the value of a solar asset during any secondary trading or simply in delivering maximum return on investment for long-term holders.
The closest the collective PV industry has got to have these issues until now have been minor rumblings from regional networks of stakeholders with hidden agendas, or at hastily arranged roundtable gatherings on the periphery of exhibitions.
Either way, few have paid much attention to these, and spending an hour here or there with a scattering of voices has been of virtually no value to the industry as a whole, and certainly not global developers and investors that need to have the issues clearly explained, and precise routes on how to mitigate against the associated risks.
This forms the motivation of PV ModuleTech 2017, and I will now walk through how the event in Kuala Lumper on 7-8 November 2017 is set to be the most valuable two days that developers, EPCs and solar investors are likely to have in terms of influencing their module purchasing decisions in 2018 and beyond.
Hearing from the key stakeholders driving module performance & quality
Any forum addressing the key issues relating to module performance, quality, reliability and risk has to include all the parties that are relevant, not simply the module supplier claiming to be the top of somebody's random table or the recipient of a 'most-popular' survey award.
In this regard, the PV ModuleTech 2017 conference will feature invited talks from the leading companies that cover the key groupings across:
• PV module manufacturing and global supply
• Module manufacturing equipment and materials
• Test, inspection, certification, factory auditing, insurance and bankability
• R&D institutes & market research
The table below shows some of the companies that will be speaking over the two days, segmented into the above stakeholder categories: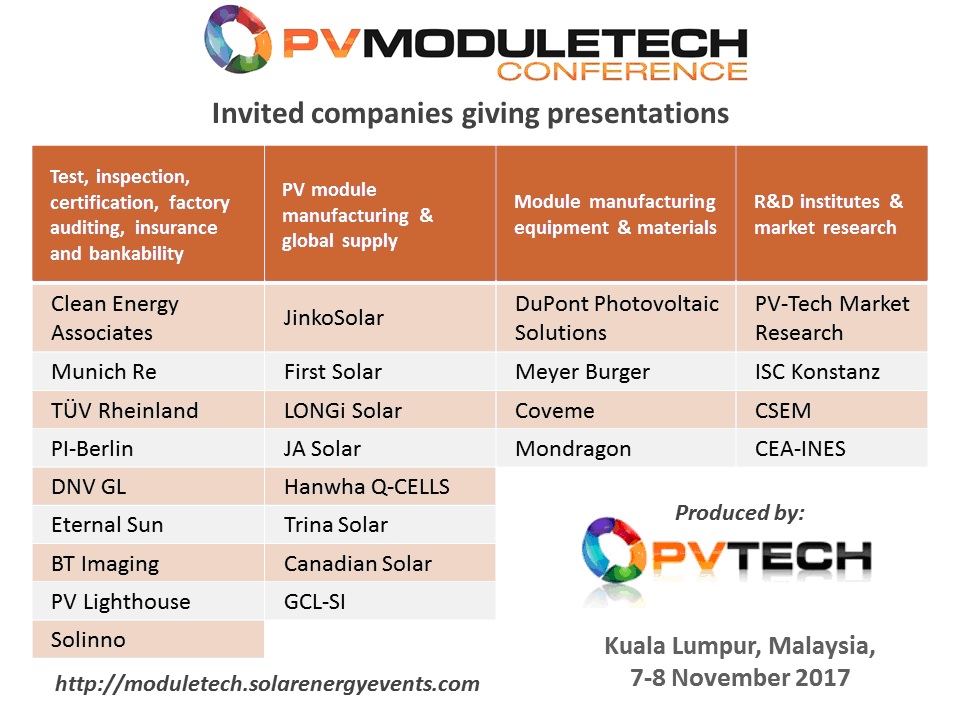 Project developers, EPCs, investors & asset owners/O&Ms to benefit most
The key winners from the PV ModuleTech 2017 event will undoubtedly be the companies in the downstream segment that design utility-based solar, specify the module suppliers and technology types, and provide upfront capital for all financing or refinancing of solar sites.
Purely in the short-term however, there are hundreds of developers and EPCs globally that are having to make immediate decisions on where to get modules from for projects over the next 12 months; and a large number of these companies have suffered in recent years by either not understanding the issues to look at when choosing module supplier/type, or having overlooked them as they sought simply to drive down build-capex.
PV ModuleTech 2017 has been set up to enable the above-noted stakeholders to fully appreciate what performance, quality and risk means for solar modules, what steps need to be taken to address each of these, and which companies are essential to reach out to (including the list of key companies shown in the figure above) in order to benefit from the current range of high-power and next-generation solar modules.
To register to take part in PV-Tech's PV ModuleTech 2017 conference in Kuala Lumpur on 7-8 November 2017, please visit the event website through this link.