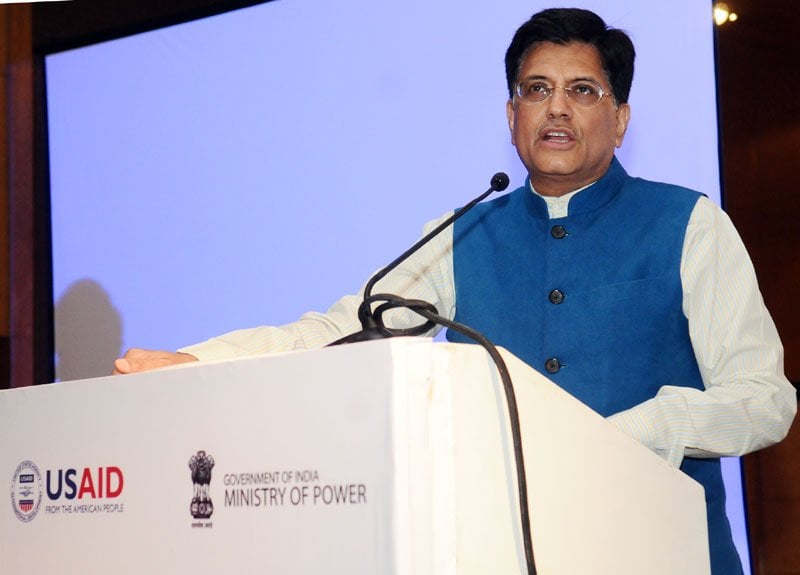 The Indian government is planning a policy to support the development of large-scale solar manufacturing facilities in India, according to energy minister Piyush Goyal.
Goyal's comments at the Surya Kranti Summit Organised by Bharat Solar-Power Development Forum in New Delhi have been widely reported by the local press.
He said: "We are working on a policy to promote large-scale domestic manufacturing of solar equipment for making it more competitive."
Aiming for a "quantum jump" in domestic production of solar equipment and potentially including silicon wafers, Goyal said the new policy will soon be sent to India's Union Cabinet for approval.
Meanwhile, a committee headed by Department of Industrial Policy and Promotion (DIPP) secretary Amitabh Kant has already provided contours of the policy to be evaluated.
At the end of last year, the Ministry of New and Renewable Energy (MNRE) announced that it was considering supporting polysilicon, ingot and wafer production in India for the first time. This was followed at the beginning of 2016 with several large-scale module and cell manufacturing announcements. For example, the Solar Energy Corporation of India (SECI) signed an agreement for various manufacturing projects with the Russian Energy Agency (REA). Meanwhile, Indian firm Essel Infra and China-based PV material manufacturer Golden Concord Holdings (GCL) announced plans for 5GW of module manfacturing capacity in Andhra Pradesh.
However, in a blow to the domestic industry, the World Trade Organisation (WTO) recently ruled against India's Domestic Content Requirement (DCR) for solar equipment in certain Indian PV projects, under a challenge brought by the US.
Goyal has now confirmed that India plans to appeal the WTO ruling.
However, in blog for PV Tech, Jasmeet Khurana, associate director, consulting at Bridge to India has said the DCR was a badly designed policy tool – adding: "We believe that instead of continuing to fight over the WTO ruling, India should start working on fixing the fundamental issues that plague domestic manufacturing. Making cells and modules at a competitive price depends on scale, access to cheap capital, vertical integration with access to cheap and reliable energy and a level playing field against other Asian manufacturers (current tax and duty structure does not provide that)."
Tarun Kapoor, joint secretary of India's Ministry of New and Renewable Energy (MNRE) recently told PV Tech that the ruling would not affect the future course of action that India was planning and claimed it would not dent the 'Make in India' programme, which is a major scheme to promote manufacturing within India.
At the Summit, Goyal also said: "We stand committed to protect the interest of domestic manufacturers of solar equipment and nothing can deter India from achieving 100GW of solar power generation capacity by 2022."
Green Clearance
The MNRE has also released a new classing of different industries based on how polluting they are. Newly classed 'White industries', which are more or less non-polluting, will not need an Environmental Clearance (EC) and will be assisted in obtaining finance from lending institutions.
Solar power generation has been classed as a 'White Industry' and therefore will receive these benefits.