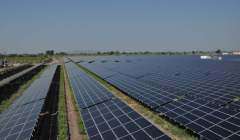 GUVNL tenders 500MW solar in Gujarat
The utility Gujarat Urja Vikas Nigam Limited (GUVNL) has issued a tender for 500MW of solar in Gujarat, according to consultancy firm Mercom Capital Group.
Some 425MW is in open category, but 75MW will be allocated to Central Public Sector Undertakings (PSUs), State PSUs, and Government controlled organisations.
The minimum project size will be 25MW for bidders other than central and state PSU's. The bid-submission deadline is 10 July.
Azure Power Taps IBRD (World Bank) Loan to Scale its Azure Roof Power Platform
Azure Power has been granted a INR678.3 million (US$ 10.5 million) loan through the SBI-World Bank: Grid Connected Rooftop Solar PV Program.
The loan, for Azure's rooftop solar platform, is for 15 years with an interest rate of 8.35% per annum.
Inderpreet Wadhwa, chairman, and chief executive, Azure Power said: "We are pleased to announce our partnership with SBI and World Bank which will enable us [to] lower the energy bills of our customers by providing clean and sustainable solar energy. We are excited to expand our Azure Roof Power platform in India with the support of SBI and World Bank."
Military Engineering Services Tenders 6MW of PV
The Military Engineering Services (MES) has tendered 6MW of solar for various military stations, according to consultancy firm Mercom Capital Group.
The tender includes 1MW at Mahajan Military Station, 1MW at Kanasar Military Station, and two 2MW projects at Suratgarh and Sriganganagar Military stations.
The bid-submission deadline is 14 July.