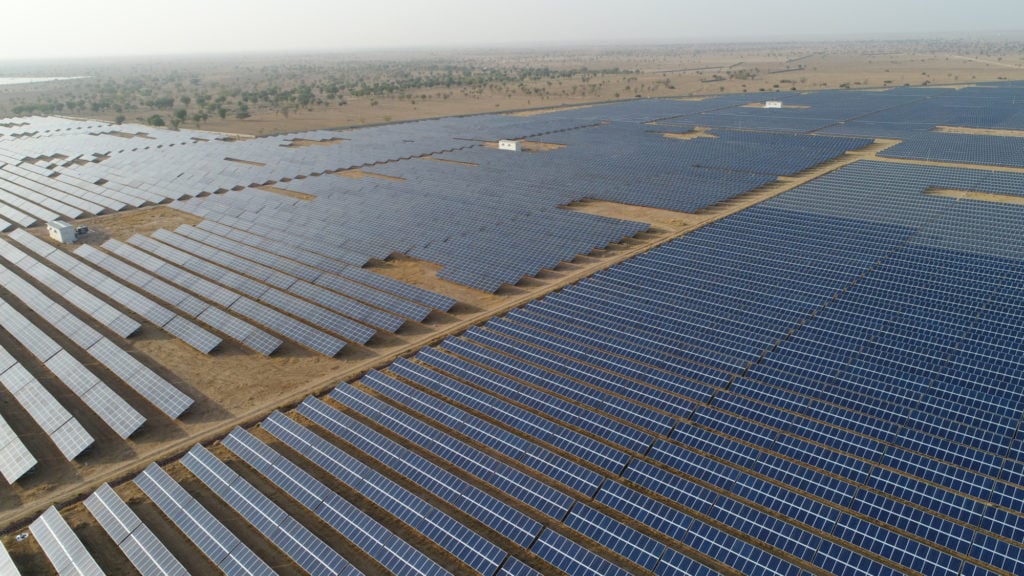 India, highly regarded within the solar community as a highly attractive market and amongst the handful of jurisdictions where solar PV can beat all other forms of generation on price, suffered a significant blip in solar installations last year. With a significant pipeline of projects and tenders galore, industry analysts expected much from the market in 2020.
But, as with most other markets, the COVID-19 pandemic derailed the country's progress. Industry analysts place Indian solar deployment in 2020 (across all scales) at between 3.2GW and 4.2GW, a stark drop on the 7GW+ installed in 2019 and far from the kind of momentum-gathering number expected from the country.
COVID-19 made an already challenging situation worse. In a recent interview with sister publication PV Tech Power, which can be read in full here, Vinay Rustagi, managing director at consultancy Bridge to India, said the last two to three years had been challenging as a result of unsigned power purchase agreements, delayed payments from power purchasers and increasing costs across the value chain.
Uncertainty also continues to abound with the country's policy landscape. India's nearly infamous distribution companies, or DISCOMS, remain in a state of flux, saddled with unwieldly debt that numerous reform packages have failed to address. Likewise solar manufacturers – both domestic and those outside the country – remain unclear of their position in the market. Last year's extension of the safeguard duty on solar imports remains in place at a rate of 14.5% until 29 July 2021, yet details of a basic customs duty – such as the rate, the components it will apply to and whether or not it will replace or be in addition to the safeguard tariff – have yet to be clarified. The BCD was due to be in place last August, but the date of its implementation came and went with no official clarification.
Reports emerged the week commencing 1 March 2021 that the country's Ministry of New and Renewable Energy had decided on a BCD of 40% on modules and 25% on cells for a period of at least three years, with an implementation date still to be settled on. Those details were due to be confirmed later that week, but had yet to be so at the time of writing.
The above would create an investment landscape that would deter many a hardened financier, but such are the prospective returns that India remains one of the top solar markets, and looks primed to rebound strongly in 2021 and beyond.
There is a consensus forming that solar deployment in India next year will comfortably stand at more than double what was installed in 2020, and could under certain scenarios treble that figure, aided by a backlog of projects carried over into this year.
The chart below illustrates the industry average projection for 2020 solar installations in India against projections for this year, provided by major consultancies.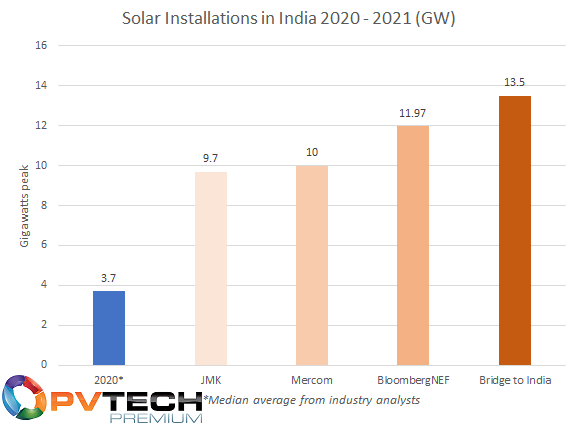 JMK Research and Analytics' forecast of 9.7GW is the most pessimistic as it stands, with Mercom India stating that more than 10GW will be deployed the next largest projection. BloombergNEF and Bridge to India are forecasting for 11.97GW and 13.5GW respectively.
Bridge to India's projection states for 11GW of utility-scale solar and 2.5GW of rooftop solar, which has not seen the same level of policy uncertainty. Rustagi says, however, that "all eyes are on the government" ahead of prospective reforms for the distribution sector, which could pave the way for a simpler power market to navigate.
India therefore has all the ingredients needed for a sizeable return to form throughout 2021. The country will almost certainly miss its much-vaunted target of amassing 100GW of operational solar by 2022 – the consensus is that, at a push, India will install barely two-thirds of that figure. But already the country has established a new target – to install 300GW of solar PV by 2030.
Achieving that figure will almost certainly require more clarity on policy across the landscape, from manufacturing to power purchase agreements and DISCOM operation.
The suite of reforms on the table in India were discussed by Vinay Rustagi with PV Tech Power 26, which is included in your PV Tech Premium subscription. You can view and download the full journal here, or download the single paper using the button below.