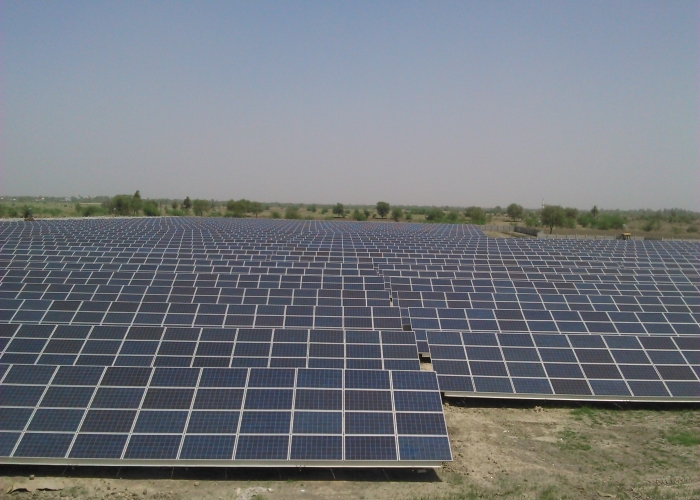 India's Ministry of New and Renewable Energy (MNRE) has written to the Solar Energy Corporation of India (SECI) directing it to hold a one-off smaller 1.2GW solar tender with a significantly lower ceiling tariff, with the hope of driving tariffs down further.
Dilip Nigam, the letter's author and coordinator of the Solar Mission and Solar Parks scheme, told PV Tech: "We have a feeling that people are quoting more than what they should quote."
Firstly, MNRE wants SECI to move away from huge 2-3GW solar tenders and issue a smaller-sized 1.2GW tender immediately.
Nigam said: "We believe that smaller bids will bring better tariffs. Bigger projects, for example a 3,000MW project, people have a lot of scope to quote high, but if there are smaller bids then there will be better competition."
However, Vinay Rustagi, managing director of consultancy firm Bridge to India, told PV Tech: "Even if someone is bidding 300, 500 or 600 [megawatts], there are very little economies of scale once you move beyond 100MW and if you look at the past few large tenders they have been closely fought between the same three to five developers so I don't expect that prices will come down because they have reduced the size from 2,000 odd downwards."
The ceiling tariffs for the tender will also be just INR2.68/kWh (US$0.038) when a safeguard duty is paid, and INR2.50/kWh (US$0.035) without safeguard duty.
MNRE cited NTPC's recent 2GW auction that discovered prices of INR2.59-2.60/kWh, when it set SECI's new tariff.
Nigam said that like NTPC's tender, the SECI tender will be Interstate Transmission Systems (ISTS)-connected and therefore, other than the size there will be few differences in the parameters.
Meanwhile, Rustagi said: "In the past, some developers have always had a preference for NTPC but that discount that NTPC has enjoyed has diminished over time. So SECI tariffs may be only very marginally higher than NTPC tenders."
Rustagi noted that the new low ceiling tariff could be a challenge for developers, but as it is only for this one tender at present, then the government will at least have an opportunity to revise it if the results are not in line with expectations.
Nigam could not say if MNRE intended for future tenders to have similar tariff ceilings – noting that "all depends upon the market conditions".
Minimum project size in the SECI tender will be 50MW, with no upper cap.