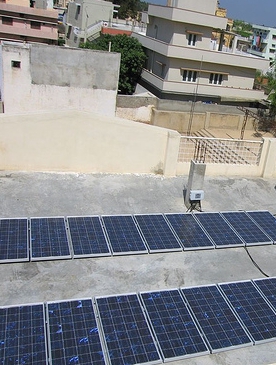 The lowest tariff in Solar Energy Corporation of India's (SECI) 500MW tender for rooftop solar on government buildings was INR2.20/kWh (US$0.034), according to a release of tentative prices.
This was for an 11MW project in the Andaman and Nicobar Islands, a special category state, from developer Mundra Solar PV under the RESCO model, where the developer leases the rooftop system to the rooftop owner.
The lowest prices quoted in the general states category were INR3.14/kWh at three locations; in Goa and Telanagana from Ishwar Cables, and in Madhya Pradesh from RMS Automation Systems.
The highest tariff overall was 4.59/kWh from Suryam International at Bihar.
Around 50.5MW look set to be awarded under the CAPEX model and 454.2MW under the RESCO model.
In April, SECI halved the tender capacity from its original 1GW to just 500MW, after a buildings survey came out with lower potential figures.
Full results can be found here.
India reached 1,396MW of rooftop solar deployment at the end of March, with nearly half (678MW) of this installed just in the fiscal year 2016-17, according to the latest 'India Solar Rooftop Map' from Bridge to India.