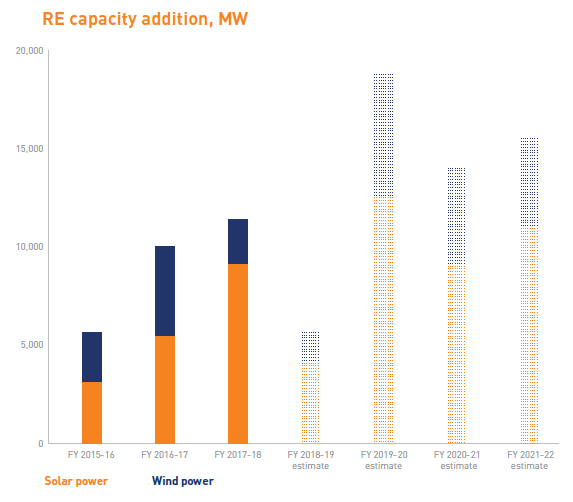 Despite consistent year-on-year growth in India's solar and wind sectors, the year 2018/19 will see a substantial slowdown of -49% compared to the previous year, according to consultancy firm Bridge to India's report 'India RE Map-2018'.
This comes despite 42GW of solar and wind tender announcements since January 2018. These tenders have been held up by transmission capacity constraints, a lull in solar park activity and the ongoing safeguard duty saga and the uncertainty around it. Even some solar tenders that were bid out in auctions have seen multi-Gigawatts of awarded capacity annulled.
China remains dominant in module supply with seven names in the top 10. The top three were Canadian Solar (9.4% market share), JA Solar (6.6%) and Trina (6.4%). Meanwhile, domestic manufacturers' combined market share increased marginally to 14.8%, up from 12.2% last year.
Perhaps one of the most notable changes was in the inverter market, where China for the first time is also beginning to dominate as Huawei (16.3% market share) and Sungrow (14.9%) replaced ABB and Japan's TMEIC as the top suppliers.
The top three states for PV and wind deployment are now:
Karnataka – 10GW
Tamil Nadu – 9.7GW
Rajasthan – 7.2GW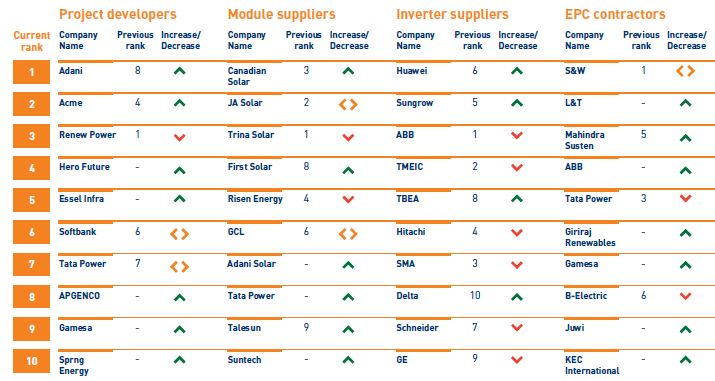 Total solar and wind capacity across India is expected to reach 58GW by the end of this month. Solar deployment is hot on the heels of wind and is expected to take over the top spot in 2020/21 since the wind sector has been hit by a switch from preferential tariffs to an auction model. Wind deployment was 1.3GW in 2017/18, down 71% on the previous year.
Vinay Rustagi, managing director, Bridge to India, said: "The Indian RE market has grown spectacularly over the last four years. It is encouraging to see a renewed government thrust on the sector pushing tender activity up significantly. But capacity installation is slipping because of various operational and policy implementation issues. That raises important questions about [the] sustainable level of growth for the RE sector. Moreover, Discoms are trying to push prices down and seem very happy to cancel tenders if their price expectations are not met. But the developers are facing increased costs due to GST, safeguard duty, falling rupee, higher interest rates etc."
Indeed just last week, local reports said that authorities in Maharashtra had set an 18% GST on solar projects, ignoring solar developers' wishes to be taxed at just 5%. The government has also now asked customs authorities to start collecting the safeguard duty for solar imports from China, Malaysia and developed countries.