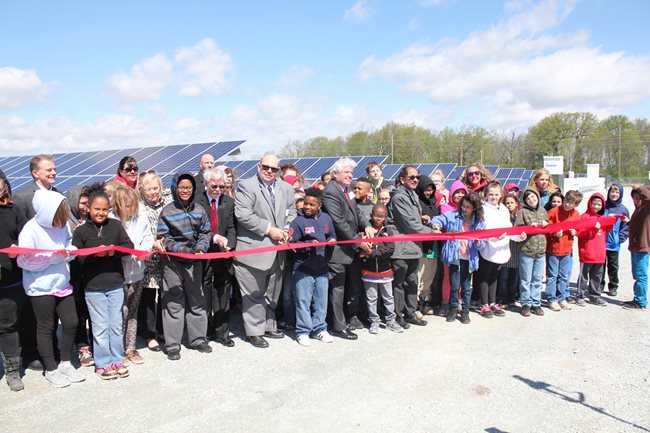 Representatives from the Anderson Municipal Light and Power utility (AML&P) and wholesale provider Indiana Municipal Power (IMPA) cut the ribbon on the 5MW Anderson solar park last week.
The facility is the 13th such facility constructed by Indiana Power and is the largest of its kind.
"IMPA's ongoing commitment to providing a low-cost, reliable and environmentally responsible power supply to our 61 communities is a top priority for the Agency," said Raj Rao, IMPA president and CEO at the ceremony. "The output of the Anderson 1 Solar Park enables us to continue expanding our diverse portfolio through the addition of solar energy. We are certain that the Park will have a lasting impact on the community, and we look forward to the completion of a second, 8MW solar park being constructed in Anderson this year."
Situated on just over 14 hectares of land, and comprised of 19,584 panels, the facility is expected to produce enough electricity to power more than 500 homes.
IMPA will purchase 100% of the park's output at a pre-established price for up to 25 years and has the option to buy the park back in five and a half years.
"We are thrilled to be part of this innovative effort," said Anderson mayor Tom Broderick. "Through the development of this solar park, we have not only increased diversity in generation resources, but have bolstered economic development for our city, brought in additional property taxes for our community, and provided an educational opportunity for residents and visitors alike to learn more about renewable energy. This solar park is a welcome addition to the Anderson community."
This is some good news for the state's solar industry, as last week governor Eric Holcomb decided to pass legislation to end retail net metering.