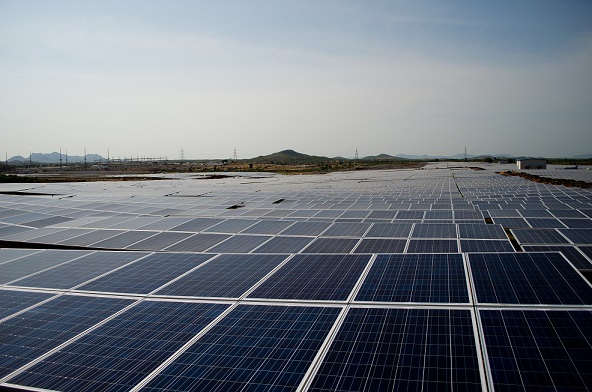 Representatives of India's two largest solar power off-takers, SECI and NTPC have said the central government's plan to tender 17GW of solar PV before April next year is totally reliant on the willingness of states to buy power.
Since last month's shock announcement from the Ministry of New and Renewable Energy (MNRE) for 77GW to be tendered in just over two years and 3GW set for the current month of December, only Karnataka has come out with an 860MW issuance so far and the industry is eagerly awaiting the promised mass rollout of large-scale tenders.
Surender Raina, general manager, REDG, at India's largest utility NTPC, told PV Tech that his firm is already working with state distribution companies (Discoms) and noted: "As soon as they are ready to buy the power, we'll float the tenders."
He said that "ultimately" the capacity of tendering is purely reliant on the amount of electricity that Discoms are willing to buy.
It is this mismatch between the huge appetite for solar development from the PV sector, versus the actual power needs of the Discoms, which consultancy firm Bridge to India has warned of throughout the second half of 2017, with energy demand growth far lower than originally forecasted.
Mudit Jain, senior manager of consulting at Bridge to India, said that any time these large off-takers SECI and NTPC bring out solar tenders they are bound to receive a very good response from the developers, but the basic question remains: "Who is going to buy this power?"
Raina could not divulge how many gigawatts of solar NTPC is itself planning to tender until it gets figures of power demand from states, but he also highlighted there are many other entities also working on similar tender issuances. Importantly, he admitted states and off-takers are concerned about multiple challenges and factors including grid balancing and they have been watching the PV tariffs fall rapidly over the last year, which can make it tempting to hold back longer on tender issuances.
When asked if the 17GW goal was reachable, Raina said: "For time being there is no problem. Later on we will see. If they don't sign, then we have to go back to MNRE."
Perhaps striking a more optimistic tone, Bharat Reddy, deputy general manager, Solar Energy Corporation of India (SECI), said 17GW could well happen and SECI is looking at 7-9GW of tenders over this period.
He also highlighted that states are already coming under added pressure exerted by MNRE in this regard.
However, Reddy struck a very similar line to NTPC when explaining exactly what is required to make the tenders happen – adding: "We are working with the state governments right now. After ensuring the off-take of power only will we actually release the tenders. So whenever we get some capacity requirements from the states only then will we release."
When questioned over whether securing capacity requirements hadn't already been one of the major problems plaguing the sector, even before the 17GW tender plans were announced, Reddy agreed that it had been a major issue. This was the plain reason for Bridge to India describing the overall 77GW tender plans as "completely unrealistic" two weeks ago. However, after Uttar Pradesh, one of the most populous and largest power consuming states released its new solar policy, Bridge to India has now said that it expects a flurry of tender announcements with the floodgates set to open over the next few months.
SECI is itself looking at 3GW to be finalised in the next 1-2 months, Reddy added.
Back in September, Reddy had told PV Tech that SECI is ready to push out a flurry of tenders at any moment and it has simply been waiting for clarity of vision from the government. However, now the government has made its highly ambitious plans clear, the next hurdle is the state's power demand, and only the number of tenders popping up on the websites of NTPC, SECI and other state off-takers over the next couple of months will demonstrate whether that demand is really there.
Then from a state Discom perspective, the industry will wait to see whether the next hurdle – the now infamous PPA signings – will be more streamlined than of late.