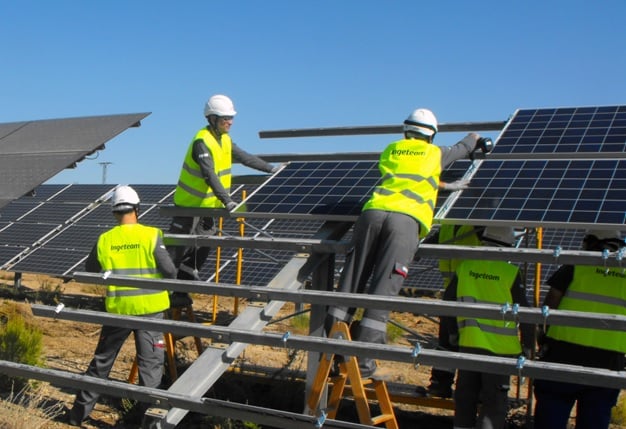 Corrected: Electrical engineering firm Ingeteam has recently replaced solar modules at Europe's oldest 1MW PV power plant after the effective power output had dropped by 37%.
The 1MW plant is located in the municipality of La Puebla de Montalbán in Toledo, Spain and was commissioned in 1994, therefore has been operating for 22 years.
Checks made by PV Tech highlight an error made in the original article that the initial modules used at the plant came from JinkoSolar and were replaced with JinkoSolar's latest 260W smart modules, providing insight into real-world operational lifetime expectancy of JinkoSolar's modules.
However, checks made found several previous technical papers existed regarding the La Puebla de Montalbán plant that clearly show there were two types of modules initially deployed, which included Saturn LGBC cells manufactured by BP Solar España and MIS-I low temperature processed cells manufactured by Nukem GmbH. The BP modules were classified at 90Wp (glass/DuPont 'Tedlar' backsheet and aluminium framed), while the Nukem modules had a nominal output of 216Wp and were of a frameless glass/glass construction.
Therefore, there is no operational lifetime analysis to be made in respect to JinkoSolar's modules. Neither of the module manufacturers exist today.
Ingeteam noted that after the two month period to replace the modules had been completed the plant was able to produce up to 1,400MWh per annum, equivalent to the annual consumption of some 350 homes. The use of JinkoSolar's smart modules, which use IC optimisers instead of diodes, provides optimised MPPT (Maximum Power Point Tracking), reducing power loss from shade and soiling and minimises panel degradation.
The company also noted that the 'revamp' work had provided them with actual, quantifiable measures over the service life of a typical PV plant, while making it possible to extend the plants service life and return it to its original, full operating capacity.
Ingeteam said that the modules would be recycled.