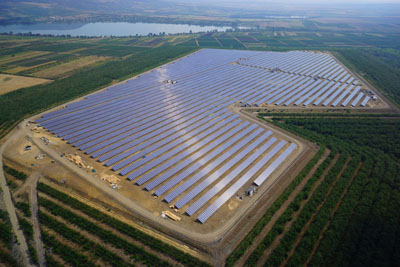 Innogy has outlined plans to invest as much as €1.2 billion in solar and other technologies as part of a new strategy to target a top three market position in various activities.
Yesterday the Germany-headquartered power company, spun out of RWE last year, revealed that it was embarking on a new strategy centred around "the four Ps", chiefly market position, performance, portfolio and partnerships.
Central to this strategy is the stated aim of being within the top three position of all of its relevant markets by 2025 with investments of up to €1.2 billion lined up over the next year to achieve that.
And solar is one of three technology areas – alongside emobility and glass fibre networks – that innogy has big ambitions for.
Earlier this year innogy completed the acquisition of solar PV and battery storage developer Belectric, a deal which innogy said provided it with a leading utility-scale solar developer.
Now innogy wants to take this further and cement its position in Europe and North America while also targeting "selected emerging countries" in the "still highly fragmented market" of large-scale solar.
Innogy has not revealed which emerging markets it could target specifically, however chief executive Peter Terium said the refinement of the company's strategy was designed to "take full advantage" of its "head start" in particular fields.
"If you want to be successful in the energy world of tomorrow, you will need economies of scale and profitability, along with the respective skills. With the four keywords of "Position, Performance, Portfolio and Partnership", we've placed our strategic focus on precisely these critical success factors," he said.