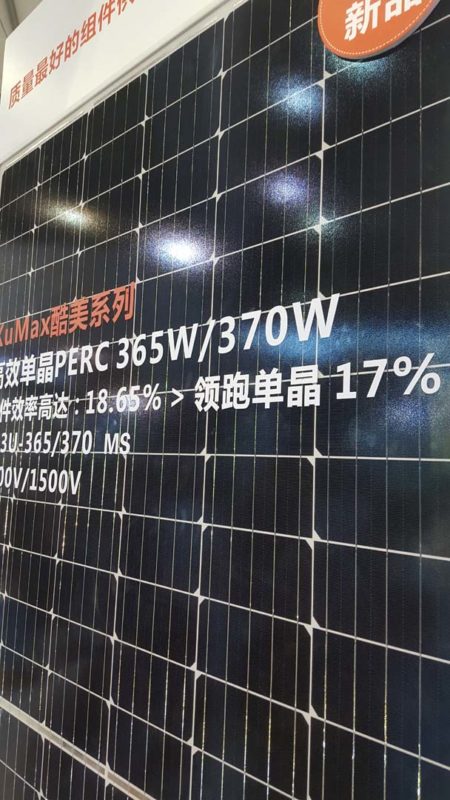 'Silicon Module Super League' (SMSL) member, Canadian Solar is set to launch a new range of high-performance multicrystalline modules at Intersolar Europe, designed to capture attention in the utility-scale market.
The SMSL plans to showcase its 'BiKu' module series, using multicrystalline bifacial cells in contrast to mass adoption of monocrystalline PERC (Passivated Emitter Rear Cell) technology and bifacial versions by the majority of major PV manufacturers.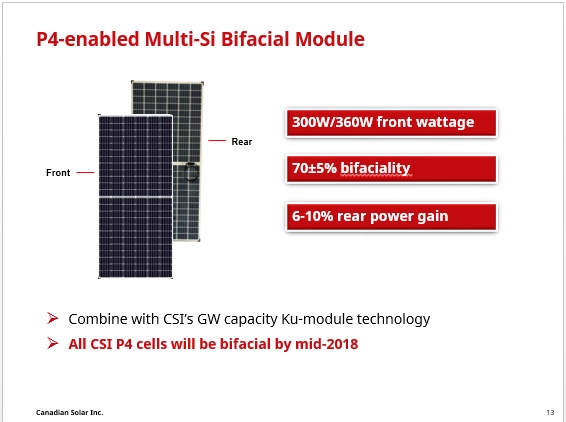 At the 2018 PV CellTech conference in Malaysia, Canadian Solar's CTO, Dr. Guoqiang Xing, highlighted the company's commitment to high-efficiency multicrystalline technology and its claimed ability to keep pace with monocrystalline technology developments.
Canadian Solar said that its bifacial modules have up to 365W power output on the front side and 75% bifaciality, which is claimed to increase energy yield by up to 30% with backside contributions under certain albedo conditions, thus lowering LCOE.
The new HiKu multi c-Si module series was said to have been developed specially for utility-scale market with power output exceeding 400W. This product was said to have latest high efficiency cell technology, coupled with Canadian Solar'sKu module technology.
Also being showcased is Canadian Solar's HiDM (High-Density Module), deploying proprietary shingle-type cells, boosting module power density with module efficiency reaching up to 20.2%. The power output of a 60-cell mono HiDM module was said to be 335W, about 10% higher than a standard full cell mono PERC module.

HiDM modules were also claimed to have appealing aesthetics and good shading tolerance, making them attractive for residential rooftop systems where the space is limited and where shadowing is possible.
The European market has not been one of Canadian Solar's key markets since the German market boom. Key markets in recent years have been China, US, Japan and India.
The company has manufacturing operations and partnerhsips in Brazil, Canada, China, Indonesia, South East Asia and Vietnam.