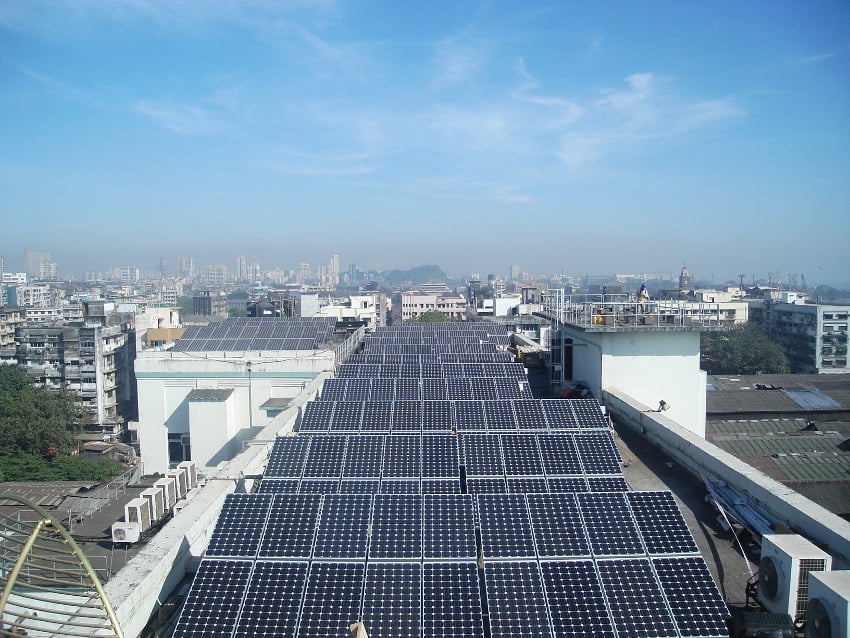 India's Ministry of New and Renewable Energy (MNRE) is to increase subsidies for rooftop solar from 15% to 30% in the next week, although this will not be the case for commercial and industrial rooftop.
In his keynote address at Intersolar India, which opened in Mumbai today, MNRE joint secretary Tarun Kapoor announced the return to a 30% subsidy for rooftop solar after the previous reduction to 15% caused stagnation in the market.
Kapoor said: "We plan to continue with the subsidy programme for sometime. We will be providing 30% subsidy for domestic, social sector, offices, and government, minus commercial and industrial."
He added: "So far I won't say that we've really succeeded in this area. We should have gone into 100s of megawatts by now."
For the private sector and industrial rooftop solar, Kapoor said India is introducing a large programme of low-cost loans. He added that the Indian Renewable Energy Development Agency (IREDA) has come out with a 9.75% loan scheme, and he expects the State Bank of India to introduce a scheme with even lower interest rates.
He said: "With easy availability of credit, we expect the industrial and commercial sector will also grow."
However, he admitted that there is an issue with rooftop connectivity with India's infamously debt-laden distribution companies (Discoms), which Kapoor claimed are more comfortable with ground-mount solar PV because they directly handle and sell the power in these cases.
Kapoor added: "[Discoms] probably still don't like too much self-consumption in the country, but I think gradually that will change and we will see higher growth in roof-mounted."
He said prices for ground-mount have also come down more quickly than for rooftop. However, in the next two-to-three months India will commission another two or three hundred megawatts of rooftop and Kapoor expects 1GW to be installed next year.
He said: "I expect growth to be much faster. We expect states and Discoms to play a major role and to push this sector."
The government of India is also launching rooftop pilots through the Solar Energy Corporation of India (SECI), which will tender another 250MW of rooftop "very shortly" having recently tendered 50MW, said Kapoor.
Bridge to India consultant Mudit Jain, also speaking to PV Tech at Intersolar India today, said the previous 15% rooftop subsidy was not workable as it was not lowering the costs for the consumer.
He said: "If you are getting any kind of subsidy it should be in the higher range."
He added that the subsidy was not necessary for the industrial and commercial sectors, as rooftop solar in these areas has already reached grid parity.
Bridge to India also released its 'India Solar Rooftop Map 2016' at Intersolar India, claiming that total installed capacity of rooftop as of 31 October 2015 was 525MW, and estimating that 455MW will be added in the next 12 months. The consultancy firm also projects that 6.5GW of rooftop will be installed in India by 2020.
Residential rooftop solar has still not reached grid parity in any state, but in the state of Maharashtra for example where the cost of energy is very high, rooftop solar is approaching parity.
The states of Tamil Nadu (76MW) and Maharashtra (52MW) lead the way in installed capacity.
Earlier this week a report from international consultancy KPMG predicted a boom in rooftop solar in India could play a significant role in propelling the country towards its 2022 solar target of 100GW.