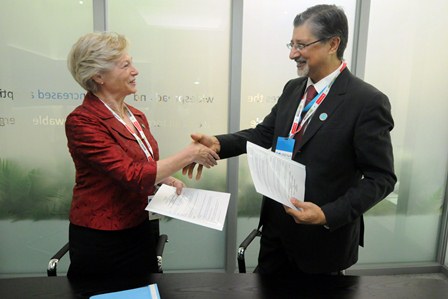 Trade cases in the solar industry interfere with the larger objective of lowering the cost of energy, the head of the International Renewable Energy Agency (IRENA) has told Reuters.
Speaking to the newswire in Singapore, Adnan Amin said proposed trade tariffs on solar modules and cells in the US would ultimately have a negative impact on the cost of energy.
"It's not always the best strategy to try to protect your industry and have high prices because in the long-term what you want to do is drive down the cost of energy," Amin said.
On 31 October the US International Trade Commission (ITC) will decide on its recommendations to President Trump in the Section 201 case.
The petitioners in the case, Suniva and SolarWorld Americas, are looking for a tariff and either a quota or price floor to be applied to imported cells and modules.
With limited active cells production in the US, there are concerns about the impact on supply for downstream projects.
A recent study by GTM Research, an active critic of the case, found that utility-scale solar deployment would be hit hardest owing to the tighter margins of projects.
Stockpiling of modules in the US and rising demand in China have contributed to rising average selling prices (ASPs), particularly for higher quality modules.