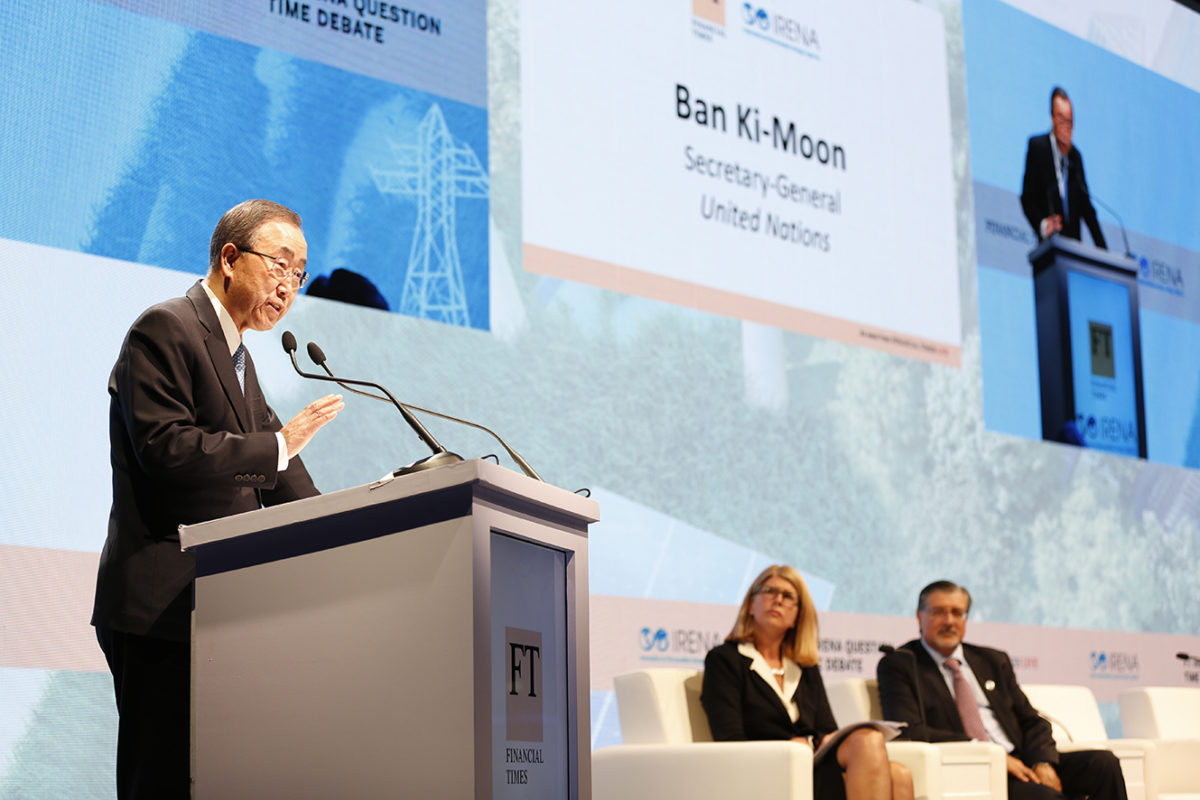 Doubling the share of renewable energy worldwide would boost global GDP and improve human welfare, according to analysis published on the eve of the World Future Energy Summit in Abu Dhabi.
A report by the International Renewable Energy Agency (IRENA) estimates that a scale-up up of renewables to 36% of the global energy mix by 2030 would lead to a US$1.3 trillion, 1.1% increase to GDP and a range of socioeconomic benefits including increased employment.
Previously, efforts to reduce carbon emissions had been painted by some as inevitably equating to a fall in living standards. But the IRENA report, said to be the first of its kind to provide a global estimate of the macroeconomic benefits of renewables, suggests otherwise.
"The recent Paris Agreement sent a strong signal for countries to move from negotiation to action and rapidly decarbonise the energy sector," said Adnan Z. Amin, IRENA director-general. "This analysis provides compelling evidence that achieving the needed energy transition would not only mitigate climate change, but also stimulate the economy, improve human welfare and boost employment worldwide."
Beyond the global GDP figure, the IRENA report, 'Renewable energy benefits: Measuring the economics', also analyses country-specific impact. It found that Japan would see the largest positive GDP impact (2.3%) but Australia, Brazil, Germany, Mexico, South Africa and South Korea would also see growth of more than 1% each.
The report also found that human welfare would improve. Using a combined measurement of welfare that includes factor such as health, education greenhouse gas emissions and employment, IRENA calculated that a 36% share of renewables would mean an overall 3.7% improvement across all of these metrics.
Employment in the renewable energy sector would also increase from 9.2 million global jobs today, to more than 24 million by 2030, the report said.
A transition towards greater shares of renewables in the global energy mix would also cause a shift in trade patterns, as it would more than halve global imports of coal and reduce oil and gas imports, benefiting large importers like Japan, India, Korea and the European Union. Fossil fuel exporting countries would also benefit from a diversified economy.
"Mitigating climate change through the deployment of renewable energy and achieving other socio-economic targets is no longer an either or equation," said Amin. "Thanks to the growing business case for renewable energy, an investment in one is an investment in both. That is the definition of a win-win scenario."
Over the weekend, ahead of the launch today of the WFES, IRENA held its sixth assembly, the first intergovernmental meeting since the COP21 climate talks in Paris in December. The organisation said the event provided an opportunity to build on the momentum from Paris and take "concrete steps" to accelerate the global energy transition.
"The energy transition makes social, economic and environmental sense and we have the needed renewable technology to provide cost-effective, reliable energy today," said Amin. "We also now have a strong political signal and global commitment thanks to the Paris Agreement. Now, we must join hands to implement the policies and programmes that can drive investment, build capacity and strengthen international cooperation to further support the energy transition. That is what the Assembly will help achieve."
In related news, IRENA yesterday announced loans worth US$46 million to help fund four renewable energy projects in Africa and the Caribbean. They are:
Antigua and Barbuda: A 4MW wind and solar project will receive US$15 million to provide energy to desalinate water and increase climate resilience.
Burkina Faso: A 3.6MW solar PV mini-grid project will receive US$10 million to provide modern energy services to more than 12,000 local families.
Cabo Verde: A 2MW hybrid grid-connected solar PV and wind project will receive US$8 million to provide a 100% renewable energy solution for the Island of Brava.
Senegal: A 2MW solar PV mini-grid project will receive US$13 million to supply electricity to rural villages.