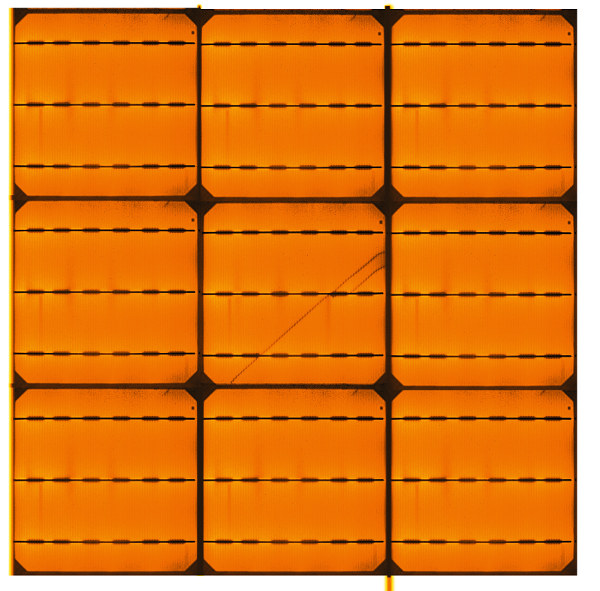 ISRA VISION / GP SOLAR are providing a suite of PV module inspection systems that can provide 100% automatic defect classification, which are designed to optimize costs throughout PV module production and ensure a high quality inspection for process and handling control.
Problem
High quality PV modules demand extremely accurate performance data while seeking the lowest possible production cost. Subsequently, the PV industry is looking for the highest possible throughput and reliability rates in module production. Quality inspection for process control, handling control and detection of defective parts are the keys to process optimization and cost efficient production. PV module production requires the use of high-quality materials to achieve long product lifetime and high power. These material costs account for more than 70% including glass, solar cells, EVA, frames and junction boxes, while the process itself, with labor and energy consumption, makes up only about 10% of overall production costs.
Solution
The use of the different inspection solutions from ISRA VISION / GP SOLAR detect defective parts early in the process and enable rework in order to increase productivity, reduce the scrap rate and save costs. The MOD-Q EL – Electroluminescence inspection system is used on modules to show defective parts, process problems, and indicates possible warranty issues.
Applications
PV module assembly inspection.
Platform
MOD-Q EL can be supplied in automatic or manual, inline or offline configurations with cycle times down to < 30 sec for high throughput and resolutions down to < 100 μm for detection of the smallest defects. MOD-Q VISION provides automatic optical inspection of modules at resolutions down to 25μm/pixel. Inspection is based on established solar cell inspection algorithms – support for arbitrary print patterns and the newest cell designs such as multi-wire, IBC and others. Cycle time is down to 15 seconds/module. STRING-Q EL / EL +VISION inspects the soldering of the cells to strings, identifying common features such as breakage, misalignment, and bad contacts. A cost efficient automatic inspection with resolutions down to 25μm/pixel (optical) and 100μm/px (EL). It can also support arbitrary print patterns and the newest cell designs such as multi-wire, IBC and others. Cycle times of 5 seconds/string are achieved.
Availability
June 2015 onwards.