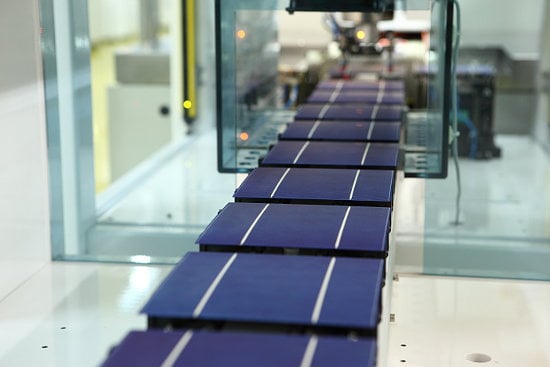 'Silicon Module Super League' (SMSL) member JA Solar has revised upwards total product shipment guidance for the fourth quarter of 2015 and full-year due to increased demand. As a result revenue expectations were also revised.
JA Solar said that it expected total shipments (cells & modules) to be in the range of 1.32GW to 1.35GW, compared to previous guidance of 1.1GW to 1.2GW. Full-year total shipments are expected to be in the range of 3.92GW to 3.95GW.
Total revenue for the fourth quarter of 2015 is now expected to be in the range of RMB 4.4 billion to RMB 4.6 billion (US$637.26 million to US$703.86 million), while fourth quarter gross margin is expected to be in the range of 16.4% to 17.4%.
The SMSL member also recently secured its position in PV Tech's top 10 PV module manufacturers listing as the fourth largest supplier, based on PV module shipments in 2015
The company also recently said that had included in the annual top ten Chinese manufacturing awards for an Outstanding Contribution in Manufacturing Quality.
These awards are jointly given by top Chinese financial magazine, the Economic Observer and CCTV Discovery. The awards were presented at the Chinese Manufacturing Summit Forum 2015.
The selection process was carried out over a three month period with a broad based selection committee seeking Chinese companies that were establishing global benchmarks in manufacturing excellence.
JA Solar was rewarded for its decision to pursue technological innovation in creating products of high quality. It is the only solar manufacturer to use 100% double-printing technology in solar cell production, the optimized contact resistance and solderability of conductor tracks of JA Solar's cells leads to less track breakage and it is the first solar manufacturer to achieve 100% anti-potential induced degradation (PID) under 85℃/85RH conditions.

The products have been independently tested and verified around the world and the company places itself 6-12 months ahead of the competition in cell R&D since 2008.
JA Solar has also been added to First Financial Daily's CBN 'Technical Innovation 100' on the 11th anniversary of the Chinese financial paper's annual innovation list. The '100' list receives over 900 candidates and each company is subject to rigorous financial screening before making the final 100.
Each organisation is also reviewed through global patent information services to ascertain company patents and whether they contribute to company growth.
JA Solar was finally honoured with winning the 2015 China Photovoltaic 'Top Runner' Award for 'Excellent Module Enterprise 'at the Fourth International Clean Energy Forum held in Macau.
The award was made to JA Solar for the quality of its solar panels from performance results in third-party testing, as well as for intellectual property rights, research and technological innovation capability. JA was ranked first.
The International Clean Energy Forum (Macau) is a non-profit international organisation led by the China Quality Certification Centre, China Energy Society and the Hong Kong Stock Exchange. The 'Top Runner' Program has as its objective the recognition of PV industry enhancement, with products based on advanced technology needing to satisfy the criteria of >17% efficiency for monocrystalline solar modules and >16.5% efficiency for multicrystalline modules.
JA Solar is known for its 'PERCIUM' and 'RIECIUM' modules that hold a number of conversion efficiency records. JA Solar pioneered PERC monocrystalline cells and modules, as well as black polycrystalline silicon cells and modules, and is the first organisation to achieve selective emitter technology with MWT PV cells.