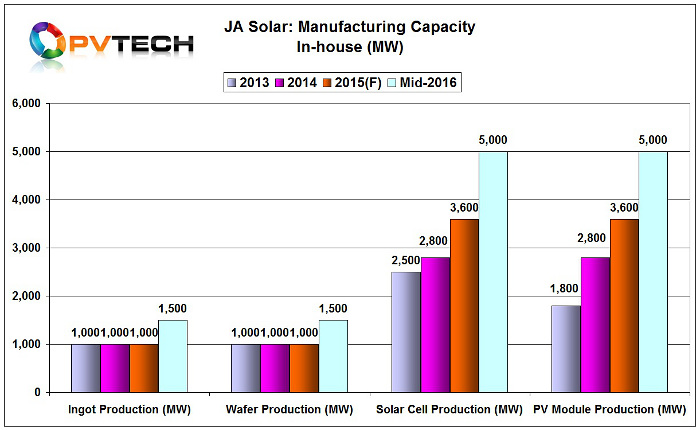 Updated: 'Silicon Module Super League' member JA Solar said it would make significant manufacturing capacity expansions by mid-2016 to meet demand.
JA Solar said that it planned to increase ingot/wafer production for the first time in many years to 1.5GW, up 500MW from 1GW.
Both solar cell and module nameplate capacity would be increased to 5GW by mid-2016, equating to both being increased by 1.4GW from planned 2015 nameplate capacity levels of 3.6GW.
The company recently starting ramping its new 400MW solar cell manufacturing facility in Penang, Malaysia.
Management noted in its earnings call to discuss third quarter that the Malaysian plant had a nameplate capacity of 800MW to 1,000MW.
Ingot/wafer capacity expansions would be undertaken at existing facilities in China, while the majority of PV module expansions would also be at facilities in China.
However, management noted that it had an OEM module agreement in Vietnam and could possibly expand solar cell capacity at the plant in Malaysia, which was only expected to ship around 20MW in the fourth quarter and was therefore focused on ramping to its initial 400MW nameplate capacity in 2016.
According to Finlay Colville, head of market intelligence at PV Tech's parent publisher, Solar Media, a key highlight from JA Solar's results was the intended capacity expansions for cells and modules that have come swiftly after Canadian Solar had issued a similar effective capacity ramp for 2016.

"Based on our updated model for JA Solar's manufacturing facilities, we are now projecting a possible 700MW of cell production outside China during 2016, feeding into a potential third-party module shipment figure of 4.5GW for 2016," noted Colville. "This would get us close to JA Solar's projected goal of increasing its market-share significantly in the US during 2016 also, noting that US based shipments can be increased through third-party cell requirements too."
One of the key global market weak spots for JA Solar had been the US, ever since the imposition of anti-dumping duties, effectively eliminating the integrated PV manufacturer from the US market.
Management said in the earnings call that it was seeking 10% of the expected 10GW US market in 2016, inferring a shipment target around 1GW to the US was being targeted for next year.
"From a manufacturing capex (capital expenditure) standpoint, 2016 is being modelled at 25% higher than 2015, with the module share of capex largely remaining within China at domestic tool suppliers. Western tool suppliers however stand to benefit from the overseas cell capacity additions and will be eagerly awaiting discussions with JA Solar regarding the technology and phasing of the new cell lines," added Colville.