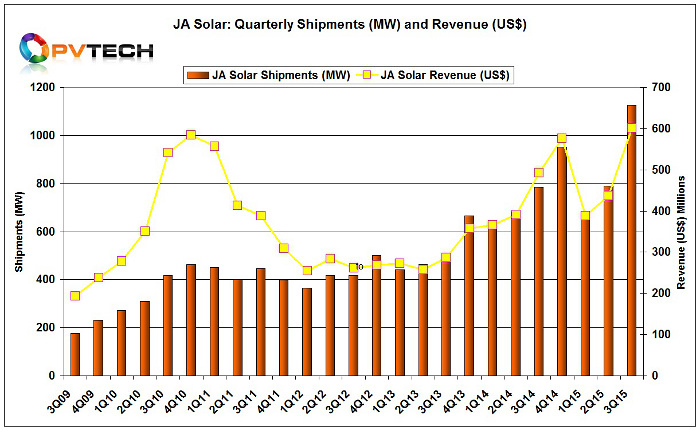 'Silicon Module Super League' (SMSL) member JA Solar has reported record shipments and revenue in the third quarter of 2015, insuring previous full-year guidance would be achieved and a top 5 market ranking within the PV industry for the year.
JA Solar reported total shipments of 1,126.8MW, up 42.5% from the previous quarter and up 43.5% from the prior year period. Total shipments were well above the high end of the previously announced guidance of 900MW to 950MW.
Shipments of solar cells and cell tolling services were 53MW, down 27.8% from the previous quarter and down 42.3% on the prior year period, as the company continues to shift to a pure-play PV module manufacturer.
Module and module tolling shipments in the quarter were 1,073.8MW, up 49.7% from the previous quarter and 54.8% higher than the same period a year ago.
Baofang Jin, chairman and CEO of JA Solar said: "We are pleased to report strong financial results for the third quarter of 2015 as total shipments of 1.1 GW exceeded the high end of our previous expectations. Strong demand in China continued to drive shipment growth, as China represented 53% of our total shipments during the quarter.
"We also made great progress on our new cell manufacturing facility in Malaysia during the quarter, and are very excited to have announced the facility's launch in late October.
"Due to relatively strong demand in the second half, we have allocated additional shipments from our downstream projects to meet customer demand. As a result, we now expect shipments to our own downstream projects to be under 100 MW in 2015," added Jin.
Financials
JA Solar reported third quarter revenue of ($601.0 million), an increase of 41% from the previous quarter and 26.4% from the prior year period. Gross margin was 17.7%, an increase of 270 basis points y/y and 130 basis points sequentially.
Operating profit was US$47.1 million, compared to US$29.8 million in the third quarter of 2014 and US$24.6 million) in the second quarter of 2015.
Net income was US40.7 million, compared to US$24.5 million in the third quarter of 2014, and US$21.4 million in the second quarter of 2015.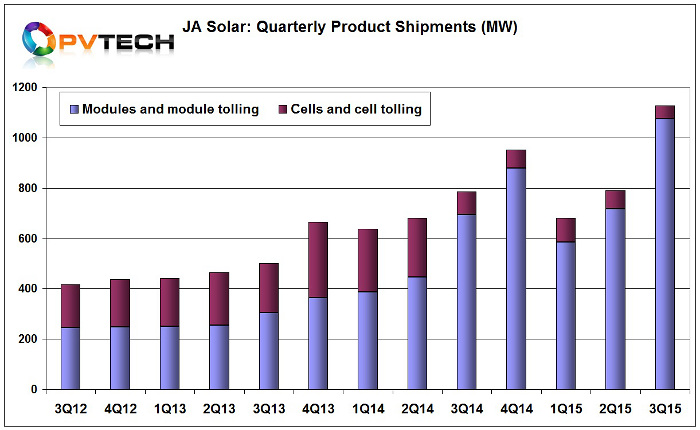 Market position
JA Solar guided fourth quarter total cell and module shipments to be in the range of 1.1GW to 1.2GW. Based on actual first nine month total shipments, JA Solar should achieve full-year shipments of 3.69GW to 3.8GW in 2015, compared to guidance given at the beginning if year of total shipments reaching between 3.6GW to 4.0GW.
Total module shipments including tolling reached more than 2.37GW in the first nine months of 2015. Given the continued decline in solar cell shipments to third parties, PV Tech estimates JA Solar could hit full-year module shipments of between 3.42GW to 3.52GW in 2015.
This would rank the company as the fourth largest PV module manufacture in 2015, behind Trina Solar, Canadian Solar and JinkoSolar, respectively.
Manufacturing expansion update
As a key SMSL ranked member, JA Solar also announced it would be expanding both solar cell and module capacity from 3.6GW in 2015 to 5GW each by mid-2016 to meet strong demand.
Only JA Solar and Hanwha Q CELLS of the six members of the SMSL have balanced cell and module nameplate capacity in 2015 and plans to remain in a balanced state through expansions in 2016.

All six members, except Yingli Green are expected to be targeting PV module nameplate capacities of 5GW or above in 2016, further differentiating themselves from the other 20 plus companies that have nameplate capacities above 1GW but below 3GW, despite some already planning capacity expansions in 2016.