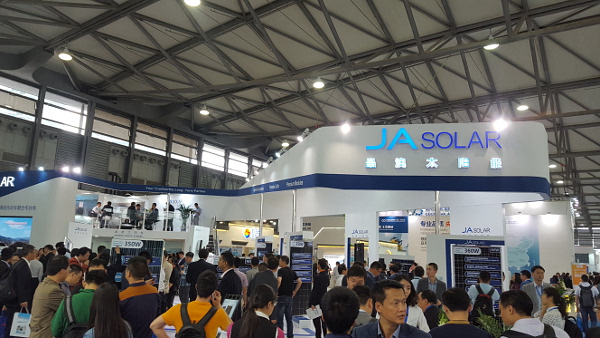 'Silicon Module Super League' (SMSL) member JA Solar has reported record module shipments in 2017, increasing over 55%, while revenue increased over 25%.
The SMSL reported total shipments 7.6GW, including 127.4 MW of modules to its downstream projects business. External shipments were 7.5GW, which represented an increase of 52.4% from 4.9GW in 2016. Module shipments were 7,143.1MW, up from 4,606MW, a 55% increase.
JA Solar's external product shipments (cells and modules) were led by China, accounting for 48.4% of total shipments in 2017, although down almost 5% from the previous year.
The APAC region accounted for 25.6% of total shipments in 2017, up from 21.6% in 2016.
Shipments to North America showed the biggest increase year-on-year, accounting for 14.9% of total shipments, up from 9.4% in 2016.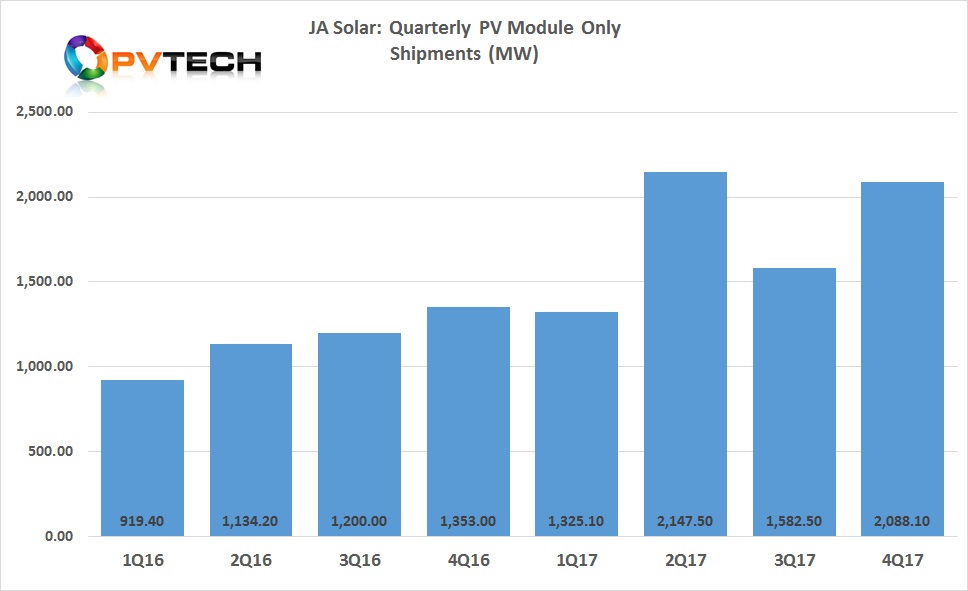 Financials
JA Solar reported net revenue in 2017 US$3.0 billion, an increase of 25.5% from US$2.4 billion in the previous year.
Total gross profit was US370.3 million), or 12.3% of net revenue, compared with US$352.5 million, or 14.6% of net revenue, in 2016.
Operating profit was US$110.0 million, compared to US$138.8 million in 2016.
Net income was $46.1 million, compared with $110.6 million in the previous year.
Baofang Jin, Chairman and CEO of JA Solar, commented, "Overall 2017 results were largely in-line with our expectations. While net revenue grew 25% year-over-year, gross margin was negatively impacted by lower ASPs and rising material costs. Additionally, higher operating expenses led to a decline in operating profits and net income in 2017 when compared to 2016. Despite the negative impact of the Section 201 trade case, we continue to invest in R&D to develop high-performance products to strengthen our competitive position. We are confident that our technologies, high-reliability products and balanced global footprint will continue to position JA Solar for a solid future."