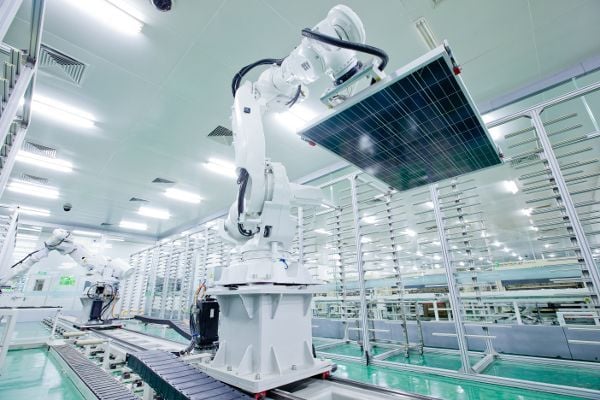 Leading 'Silicon Module Super League' (SMSL) member JinkoSolar is planning further capacity expansions across wafer, cell and module assembly in 2018, including a module assembly plant in the US, after strong capital expenditures in 2017 that totalled US$480 million.
The SMSL reported that in-house wafer capacity went from 5GW in 2016 to 8GW in 2017, a 3GW increase, year-on-year.
Solar cell capacity increased by 1GW in 2017, reaching 5GW. Module assembly capacity increased from 6.5GW in 2016 to 8GW in 2017, a 1.5GW increase, year-on-year.
In 2018, JinkoSolar has set plans to add 1GW of in-house wafer capacity in the first quarter, bringing total nameplate capacity to 9GW. By the end of the year a further 500MW expansion of wafer capacity is expected.
The SMSL is also adding a further 1GW of solar cell capacity through the year, bringing in-house nameplate capacity to 6GW by year-end.
In-house module assembly capacity is being expanded by a further 1.5GW in 2018. This includes a 500MW increase in the first quarter of 2018 and therefore a further 1GW by year-end. Total module capacity is therefore expected to reach 10GW in 2018.
The difference between 2017 and 2018 expansions, apart from a slowdown in wafer capacity expansion plans, is the establishment of a module assembly plant in Florida, US.

Although capacity details of the US plant remain undisclosed, JinkoSolar has reported that in its recent stock offering that was expected to net the company US$71.1 million, would be used for the new assembly plant as well as for other capital expenditure requirements for the capacity expansion and upgrade of other facilities.
Capital expenditures in 2017 totalled US$480 million, up from US$277 million in 2016. However, given the slowdown in wafer capacity expansions, capex for 2018 may prove to be lower than in 2017.