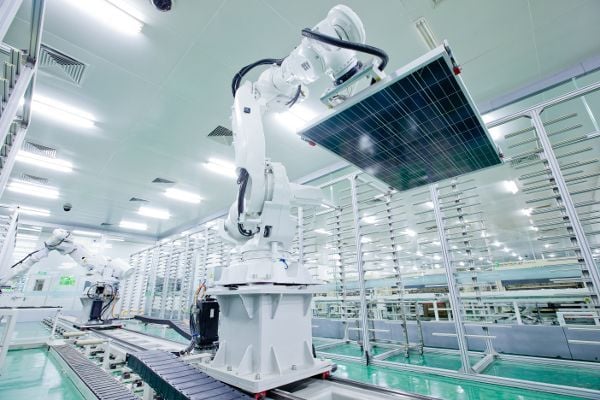 Leading 'Silicon Module Super League' (SMSL) member JinkoSolar could establish a manufacturing plant in the US to meet its US subsidiaries master solar module supply agreement for 1.75GW over the next three years.
"This deal will further solidify our leadership in the U.S. market," said Nigel Cockroft, General Manager of Jinko U.S. "An agreement of this magnitude exemplifies JinkoSolar's commitment to provide our clients with the most reliable products and dependable, regional customer service."
According to a press statement, JinkoSolar (U.S.) Inc., has signed a major master solar module supply agreement with a US counterparty, which could be supplied via a US-based manufacturing plant that JinkoSolar would own and operate.
JinkoSolar's Board of Directors was said to have authorized planning for the construction of an advanced solar manufacturing facility in the US, without further clarification.
However, an un-named solar company has been reported to have secured funding to establish a manufacturing plant in Jacksonville, Florida. However, whether this plant is for both cells and modules remains unclear.
The US President has recently imposed 30% import duties on all solar cells (after quota exceeded) and 30% import duties on all crystalline silicon modules made outside the US, although exemption is possible for countries who apply and for technology reasons.
In 2016, Korean-owned Hanwha Q CELLS secured a 1.5GW module supply deal with US-based NextEra Energy Partners for projects to be built in 2016, although this order was supplied from its manufacturing operations in Malaysia and South Korea, which circumvented existing anti-dumping duties on China and Taiwan made cells and modules. Those duties remain in place.
SMSL members and other large (Top 10) PV manufacturers are all based in China and South Korea and have supported a comprehensive and highly competitive supply chain that has been the driving force behind significant manufacturing cost reductions in the last 10 years.
Such a supply chain infrastructure in the US is fragmented and suffers from higher operating costs, making it difficult for larger manufacturers to justify establishing manufacturing plants in the country.
Large PV companies that established small module assembly plants in the US in the past such as Suntech and Sanyo, eventually closed the plants as not being competitive with imported products.
Should JinkoSolar establish a manufacturing plant in the US it could easily be a highly automated assembly plant, imported solar cells and paying the 30% duty.
Assembly plants come with minimal capital expenditure compared to wafer and cell production and can be established in a variety of existing buildings needing little specialist utility services and are faster to establish and close down, even with high-automation.
JinkoSolar in particular has followed an asset-lite manufacturing strategy, relying on third party suppliers for around 50% of its solar cell requirements, while also relying on third parties for at times over 10% of its module requirements.
In reporting third quarter 2017 financial results late last year, JinkoSolar guided full-year module shipments to be in the range of 9.6GW and 9.8GW, up from the previous quarter guidance of shipments between 8.5GW and 9.0GW.
Based on recent global solar market forecasts, end market demand could reach or exceed 100GW, indicating JinkoSolar's global market share was in the region of 10%.