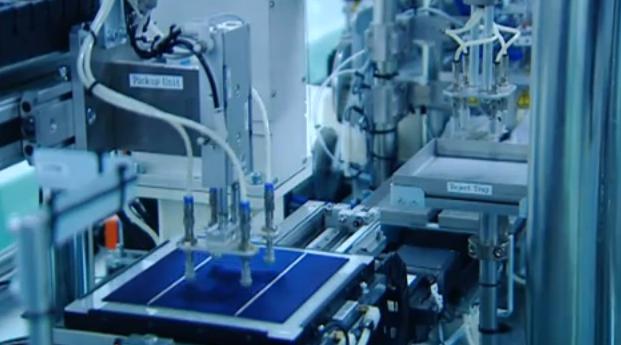 Updated: Leading 'Silicon Module Super League' (SMSL) member JinkoSolar has raised its full-year PV module shipments to be in the range of 6.6GW to 6.7GW, compared to previous guidance of 6.0GW to 6.5GW, contrasting with weaker than expected third quarter shipments.
JinkoSolar reported third quarter 2016 shipments of 1,606MW, which includes 50MW used in its downstream projects. Total solar module shipments decreased by 6.4% from 1,716MW in the second quarter of 2016.
However, shipments are expected to rebound strongly in the fourth quarter. JinkoSolar guided shipments to in the range of 1.7GW to 1.8GW.
Kangping Chen, JinkoSolar's Chief Executive Officer commented, "Our business continued to gain growth momentum despite a challenging environment. Module shipments reached 1,606 MW, an increase of 41.6% year-over-year while total revenues reached US$855.3 million, an increase of 39.0% over the same period last year. Based on our visibility into the fourth quarter of 2016, we are once again raising our full year 2016 shipment guidance to 6.6GW to 6.7GW from our previous guidance of 6.0GW to 6.5GW. We are well positioned to continue benefitting from the global adoption of solar energy, which is playing a more important role in the global energy landscape."
Financial results
JinkoSolar reported third quarter revenue of US$855.3 million, down 4.4% from US$896 million in the second quarter of 2016.
The company said that the sequential revenue decline was mainly attributed to a decline in module selling prices in the third quarter of 2016 as a result of a decrease in market demand and intense competition in the solar industry.
Gross profit in the third quarter was US$188.6 million, compared to US$182 million in the previous quarter. Gross margin was 22.1%, up from 20.4% in the second quarter of 2016.
Total operating expenses were US$98.5 million, down 14.4% from the prior quarter. JinkoSolar said that the sequential decrease was mainly due to a US$14.4 million provision for impairment of property, plant and equipment. Total operating expenses accounted for 11.5% of total revenues, compared to 12.9% in the second quarter of 2016.
PV project update
JinkoSolar said that Jinko Power's electricity output increased 20.8% to 395GWh from 327GWh in the second quarter of 2016, while generating around US$54.1 million in revenue. Jinko Power was said to have connected an additional 184MW of solar projects during the quarter, bringing its total to 1,314MW.
The company closed the sale of Jinko Power's business in November to Shangrao Kangsheng for US$250 million in cash. However, JinkoSolar expects to report a gain on the sale in the fourth quarter of 2016.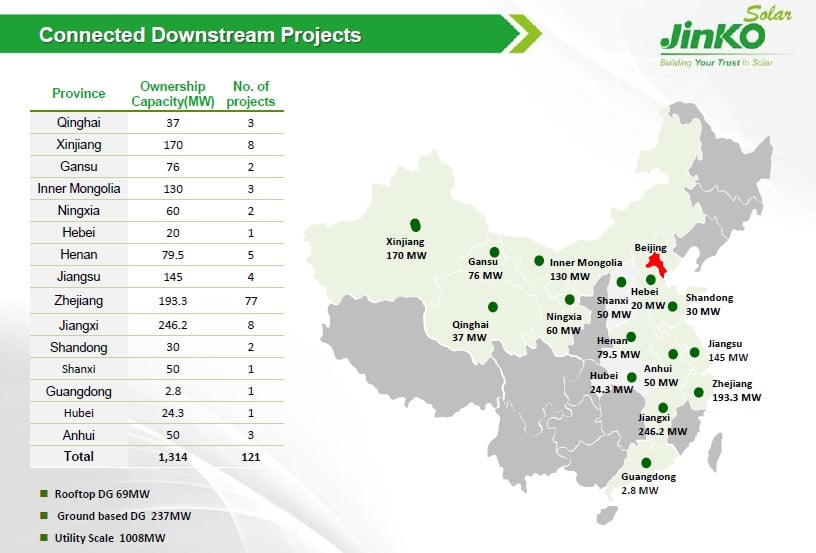 Manufacturing update
JinkoSolar reported in-house annual silicon wafer production capacity had increased by 1GW in the quarter, reaching 4.5GW. The company had previously guided the capacity increase would be accomplished in the fourth quarter of 2016.
The company increased solar cell capacity by 200MW in the third quarter of 2016, reaching 3.7GW. JinkoSolar has not revealed any plans to expand solar cell capacity further in 2016.
"We continued to focus on developing high-efficiency products. Our mono wafer capacity using diamond-wire cutting is now operational and is scaling up rapidly to support our high-efficiency PERC lines. As leader in the industry, our team is constantly focusing on providing our customers the highest-quality, most reliable and high-efficiency products," noted Chen.
PV module capacity remained unchanged at 6.5GW in the third quarter and is not expected to be expanded further in 2016.
JinkoSolar reported a reduction in production costs in the quarter that included non-silicon costs falling to US$0.27/W from US$0.29/W in the previous quarter, while silicon costs were said to have remained unchanged.
Sales success
The better than expected shipment guidance for the full-year, despite the slowdown in China and sluggish US market in the third quarter, JinkoSolar's strategy of expanding its global market footprint in recent years and higher in-house project completions have so far cushioned the company in a volatile solar industry landscape.
"We consolidated our leading position across a number of key and emerging markets during the quarter. Demand in China remains robust as module prices stabilized. Demand is expected to pick up again in the first half of 2017 with the announcement of the next round of FiT cut, which we expect will act as a strong catalyst.
Demand in the US is stable despite recent market panic which we believe is only temporary. We expect the US market will heat up again during the second half of 2017. We have always advocated a fair, transparent and market-driven environment, and the withdrawal of major solar manufacturers from the EU's MIP agreement is boosting our outlook for the European markets. We also reinforced our presence on the ground in India by opening a new office to offer local technical and logistical support to our customers there. We expanded our emerging market presence to over 40 countries and regions, and strengthened our leading position in key markets such as Chile, Mexico and the UAE," added Chen.
Shipments to North America in the third quarter reached 589MW, its largest market in the quarter, surpassing China for the first time. Management noted in its earnings call that it expected very strong demand in the US in the second-half of 2017.
China shipments in the quarter were 584MW, down from 703MW in the second quarter of 2016.
Emerging market shipments increased significantly from 28MW in the second quarter to 111MW in the third quarter. However, emerging market shipments in the prior year quarter was 221MW.
European shipments also increased quarter-on-quarter as the company exited the EU MIP agreement. Shipment to Europe were 103MW, up from 57MW in the second quarter.