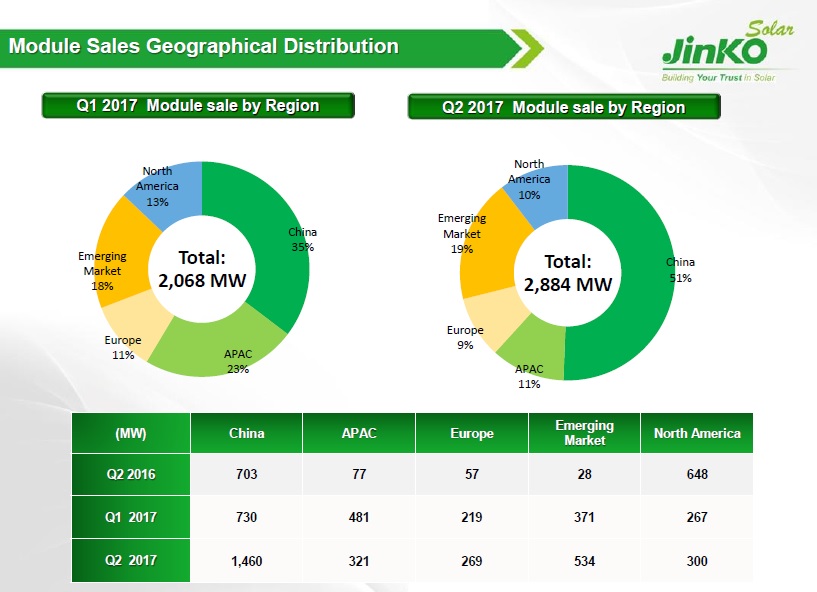 Leading 'Silicon Module Super League' (SMSL) member JinkoSolar set another new industry record for PV module shipments in the second quarter of 2017, with first half year shipments just shy of 5GW.
JinkoSolar exceeded module shipment guidance by 288MW, reaching shipments of 2,884MW in the second quarter of 2017. First half year shipments were 4,952MW.
However, full-year guidance remained unchanged with shipments expected to be in the range of 8.5GW to 9.0GW, indicating a quarterly shipments peak for the year was the second quarter. Module shipments guided for the third quarter was in the range of 2.1GW to 2.3GW, which is still higher than shipments achieved in the first quarter of 2017.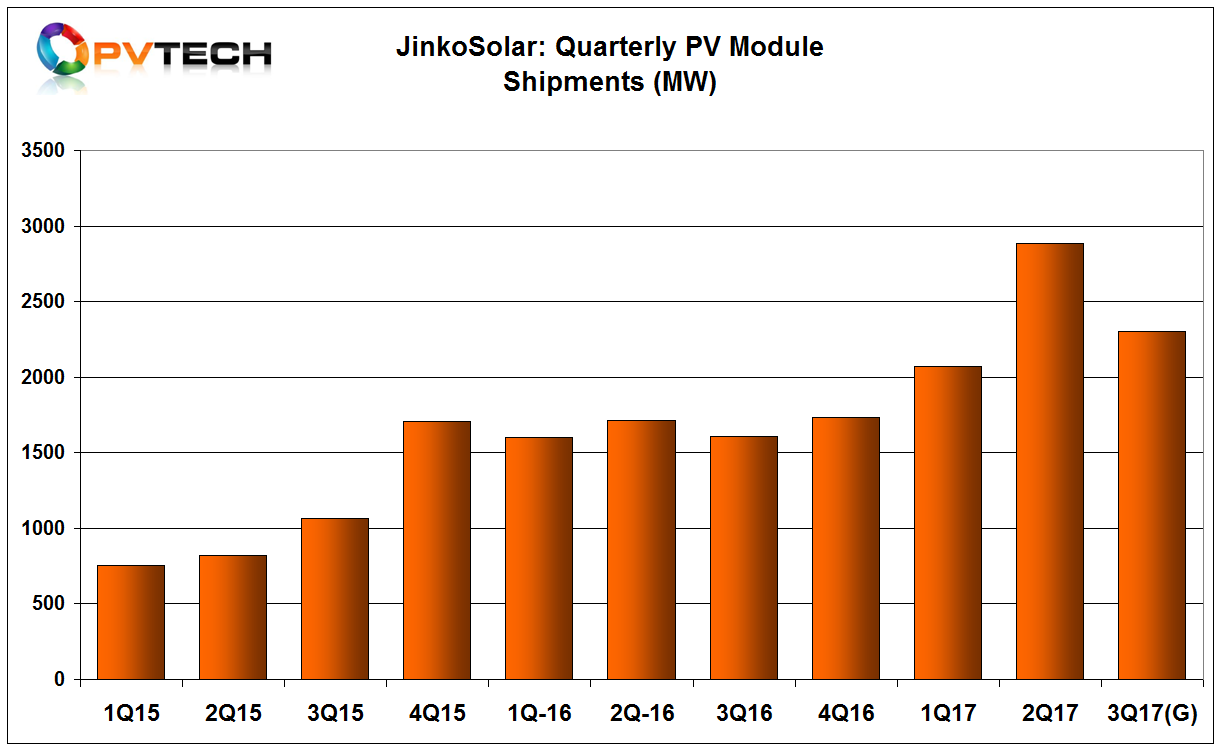 Kangping Chen, JinkoSolar's chief executive officer commented, "Second quarter module shipments once again hit a record high, increasing 39.5% sequentially to 2,884MW. Shipments over the past few quarters have surged to new highs, allowing us to continuously capitalize on the growing recognition of JinkoSolar's brand and excellent products and services to increase our market share."
"Demand in China was very strong during the quarter, boosted by rush orders before the June 30th Feed-in-Tariff cutoff. This momentum is carrying on into the third quarter with the Top Runner projects, PV Poverty Alleviation projects, and DG projects generating stable demand, which is expected to continue throughout the rest of the year. The long-term demand of Chinese market will be supported by the upwards revision of 5-year targets set by the NEA. The Section 201 petition in the US continues to create market uncertainties. We remain committed to the US market and believe its long-term growth momentum will not change. Demand in emerging markets continued to grow, accounting for a larger portion of our shipments during the quarter. India's 100 GW target by 2022 is solid and will continue to create strong demand going forward. The solar markets of Mexico, Argentina and Brazil in Latin America are rapidly growing in scale while Egypt and Jordan in Middle East have the potential to become GW level markets next year. We expect demand in emerging markets to continue to grow in 2018," added Chen.
Record shipments in the quarter were dominated by China, reaching 1,460MW, twice the level in the previous quarter. 'Emerging Markets' was second largest geographical segment with shipments increasing from 371MW in the first quarter of 2017 to 534MW in the second quarter. Shipments to Europe also increased to 269MW, up from 219MW in the previously quarter.
Perhaps the surprise weakness was shipments to North America, which only increased to 300MW in the reporting period, compared to 276MW in the first quarter of 2017. US ITC 'Section 201' trade case has led to increased demand from project developers in the US, eager to secure module supply ahead of rulings on the case that could occur before year-end.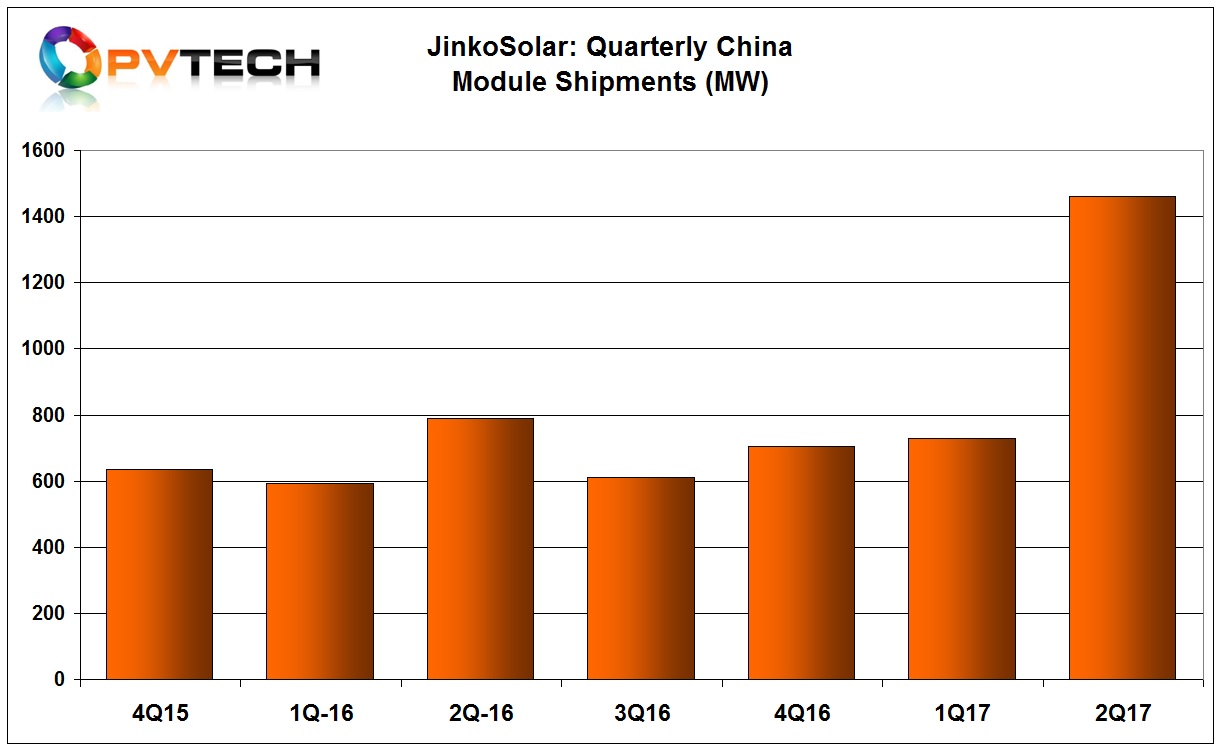 Margin squeeze continues
As with the first quarter of 2017, JinkoSolar is suffering from supply chain dynamics that include higher polysilicon purchase prices in the upstream and continued module ASP declines in the downstream that is putting pressure on margins.
"While ASPs declined during the quarter, prices along our supply chain remained relatively high and impacting our margins," noted Chen. "We also worked with our OEM partners more extensively than expected during the quarter to ensure timely delivery, which adversely impacted our margins. We are currently reviewing our strategy in order to improve profitability and further cut down the use of OEM going forward. Our efforts will also be focused on strengthening inventory management and controlling operating expenses."
However, management noted that it expected module ASP's to remain stable in the second half of the year. This was attributed to continued strong demand and first quarter 2018 order intake, already secured.
"We already have strong visibility in our order book through the rest of the year and have already begun to take orders for next year. We expect ASPs to remain stable during the second half of the year. With our focus now shifting towards profitability, I am confident that we will benefit from the long-term growth prospects of the industry while generating sustainable returns for our shareholders," added Chen.
Financials
JinkoSolar reported second quarter revenue of US$1.17 billion, an increase of 37.2% from US$839.3 million in the previous quarter, and an increase of 12.8% from US$737.6 million in the fourth quarter of 2016.
The company reported a gross profit in the second quarter of 2017 of US$123.1 million, up from US$94.3 million in the previous quarter. The sequential increase was mainly attributable to the increase in solar module shipments, while on a year-over-year basis, the profit decline was mainly attributable to a decline in module ASP's.
Gross margin was 10.5% in the second quarter, compared with 11.2% in the first quarter of 2017 and 18.1% in the second quarter of 2016.
The company reported total operating expenses of US$110.6 million, an increase of 26.6% from the prior quarter, due to the increase in shipping costs, which was in line with the increase in solar module shipments. Total operating expenses accounted for 9.5% of total revenues in the second quarter of 2017, compared to 10.3% in the first quarter of 2017 and 12.7% in the second quarter of 2016.
Manufacturing update
JinkoSolar's dependence primarily on solar cell suppliers for around half of its module requirements has not only hit margins but effectively means the company is capacity constrained, despite running at full-capacity, a situation expected to continue through the rest of the year and into the first quarter of 2018.
The company said that its in-house annual silicon wafer capacity stood at 6GW at the end of the second quarter of 2017, up 1GW from the prior quarter. The company is ramping its monocrystalline ingot/wafer capacity over its multicrystalline ingot/wafer capacity and expects to have ramped mono ingot/wafer capacity to 3.5GW by the end of the year. Total wafer capacity is expected to reach 7.5GW at the end of 2017.
As expected, solar cell capacity increased by 500MW in the reporting period but further solar cell capacity expansions are not expected in 2017. Therefore otal solar cell capacity for 2017 has peaked at 4.5GW.
PV module capacity increased by 1GW in the second quarter of 2017, reaching a total of 7.5GW. Module capacity is expected to increase by a further 500MW in the third quarter with no further in-house expansions expected by the end of the year. Total module capacity is expected to be 8GW.
Therefore OEM module requirements in 2017 are expected to be in the 1GW range.
"We are ramping up our mono wafer and PERC cell capacity. Our diamond wire-cutting multiply wafers are now in mass production and are combined with our black silicon cell technology. Our technological focus remains on efficiency and cost. With solid progress being made in the development of new technology, we will continue to maintain flexible and dynamic production capacity in order to meet demand from a rapidly changing market," noted Chen.
The mono PERC (Passivated Emitter Rear Cell) ramp is expected to help support gross margins in the second half of the year, according to the company. Mono PERC module shipments are expected to account for around 25% of total shipments in the second half of 2017.
Management noted that it planned to reach 2.5GW of mono PERC capacity by the end of 2017.
Capital expenditure in the reporting period increased to US$164 million, up from US$110 million in the previous quarter. However, based on capacity expansion timelines, JinkoSolar's capex has already peaked in the second quarter for 2017.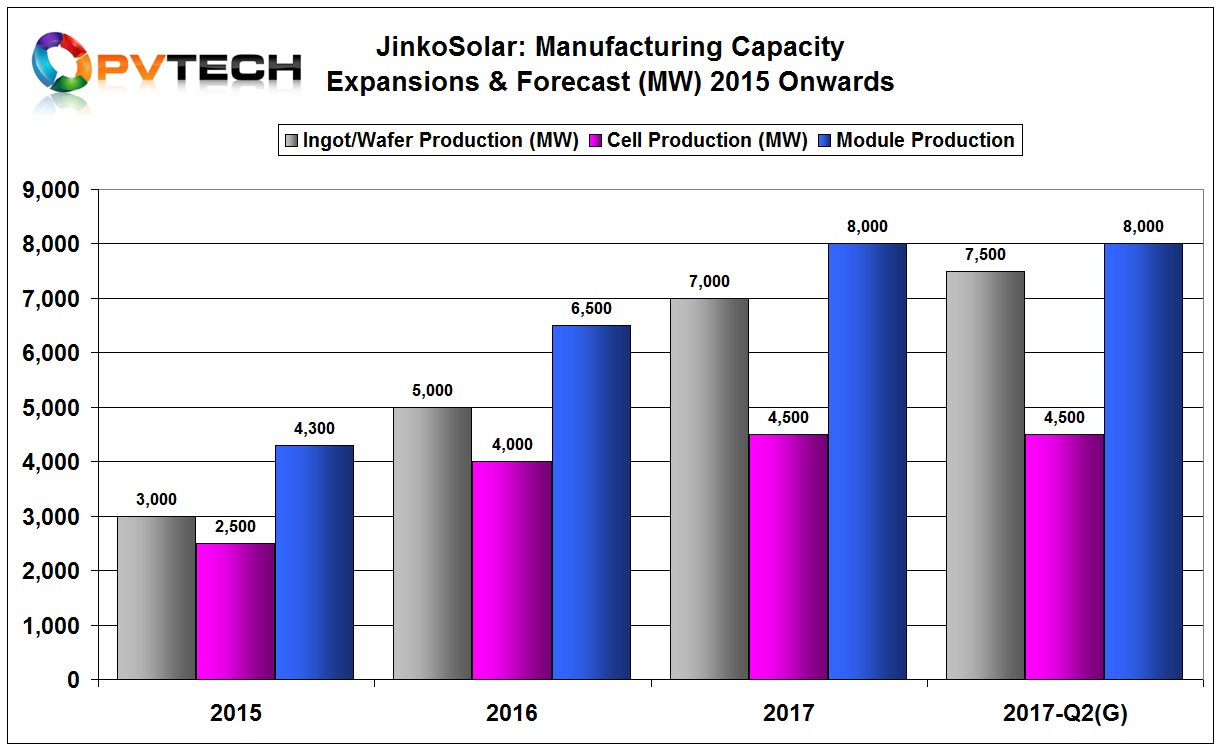 R&D update
Ahead of reporting second quarter financials, major metallization paste producer Heraeus Photovoltaics said it had signed a major strategic partnership agreement with JinkoSolar that would focus on what the company said would be the development of a new generation of "Super PV Cells" with higher efficiencies and lower costs.
Part of the new agreement includes further efficiency gains and lower production costs related to black silicon cells and N-type monocrystalline cells.
JinkoSolar has been increasing its R&D expenditures every year since 2014. As expected R&D spending reached US$20.08 million in the first half of 2017, already more than was spent in 2014 and close to 2015 spending of US$22.2 million.
JinkoSolar is on target to easily surpass record R&D spending of US$26.1 million in 2016.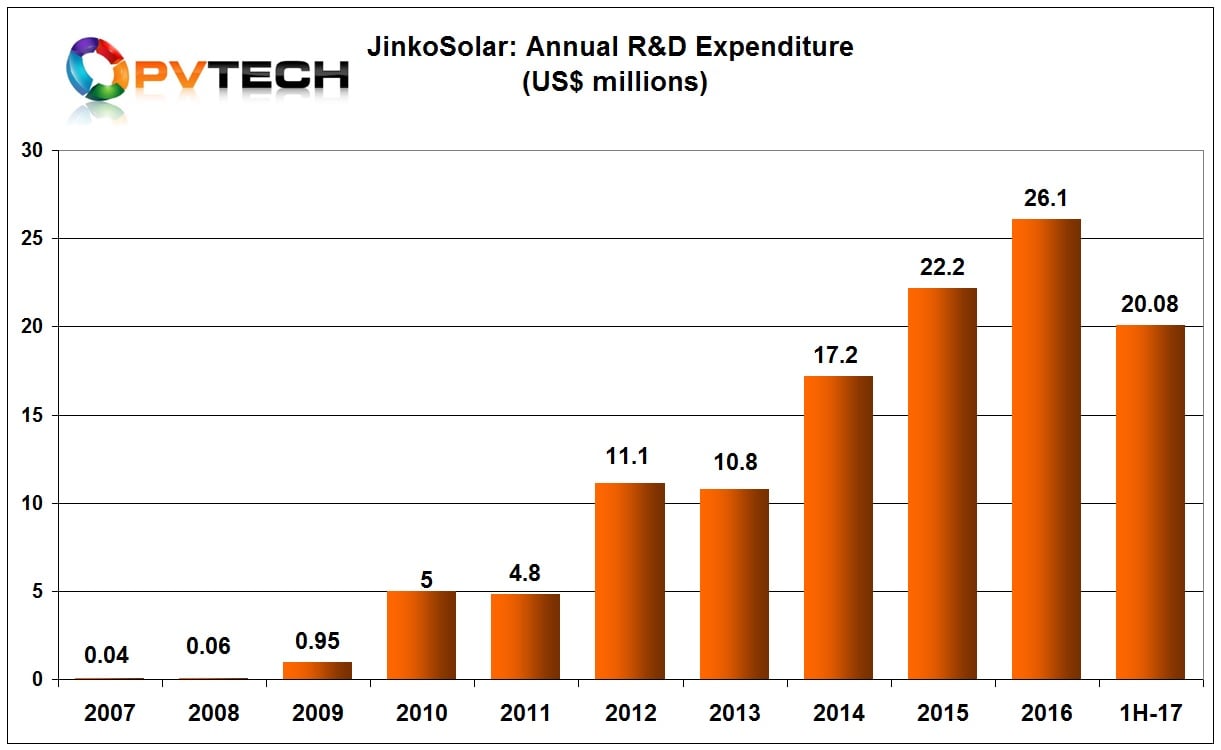 Guidance
Having previously offloaded it's the majority of its downstream PV project business, Jinko Power in late 2016, the company said that it would stop developing new overseas downstream solar projects starting in the third quarter of 2017, reinforcing its return to on focusing on manufacturing.
JinkoSolar confirmed total solar module shipments in the third quarter of 2017 to be in the range of 2.1GW to 2.3GW. Management noted in the earnings call that it was aiming at high-end of the shipments range.
Therefore, based on unchanged full-year shipment guidance, fourth quarter shipments would be expected to be around 1.7GW.