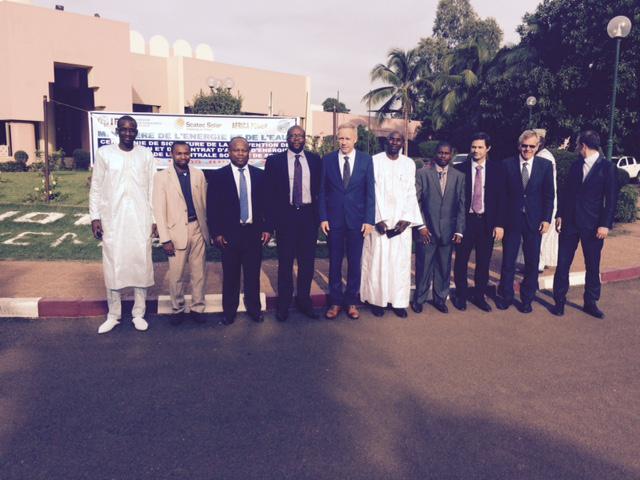 West Africa's Mail is to build its first ever solar PV project with a little help from the African Development Bank (AfDB).
AfDB and its board of directors have approved a senior concessional loan of US$25 million to fund the 33MW Segou solar project.
The project was one of the first to launch in Sub-Saharan Africa, with Norway's Scatec Solar signing a 25-year PPA with the International Finance Corporation (IFC) and Electrcité du Mail (EDM) in July 2015. It will be implemented by a Special Purpose Vehicle (SPV) that will be fully owned by the private sector under a 25-year agreement with the government of Mali.
The AfDB loan will go towards the design, construction and operation of the plant. Once completed, it will generate 52.7GWh annually, which is around 10% of the country's current generation capacity. It will be be located near the ancient city of Segou in South-East Mali, 240 kms from Bamako.
The project will be funded by the Climate Investment Funds (CIF) programme for 'Scaling up Renewable Energy in Low Income Countries' (SREP), alongside additional co-financing from the AfDB (US$8.4 million) and the IFC (US$8.4 million).
The Segou solar project is not only notable for being Mali's first solar project, but it was also West Africa's first utility-scale PV project by financial close and will also create a replicable business model for private investment in solar markets across West Africa.
"Introducing utility-scale solar PV as an energy source will enable Mali to harness its abundant solar energy potential, diversify the country's energy mix, and increase access to cleaner energy for its citizens," said Anthony Nyong, AfDB's director of Climate Change and Green Growth. "The project's specific business model is a potential energy game-changer for Mali and indeed for all of West Africa. The project is a demonstration of the significant role that concessional climate finance can play in mitigating project specific risks and in addressing barriers that would otherwise hinder private sector involvement in renewable energy projects. This structure not only allows the Government of Mali to allocate valuable resources to other sectors of the economy, it also smoothens the way for private sector investments. It has ultimately opened the door for the industry to begin to flourish in West Africa."
Many pioneering solar projects such as Segou, run into high transactional costs, limited ability to raise financing, lack of capacity and other challenges linked to the learning curve and off-taker and currency risk. However, as the project is being implemented under SREP, with financing from the IFC and AfDB, these obstacles are alleviated somewhat.
"SREP is uniquely designed to help low-income countries like Mali find ways to break down barriers to private sector engagement in renewables," said Leandro Azevedo, co-task manager and senior climate finance officer at the AfDB. "SREP is helping low-income countries like Mali establish bankable solar PV projects under sound regulatory frameworks and lower power generation costs, and it will ultimately contribute to reducing reliance on expensive fossil fuel imports and subsidies in power generation."