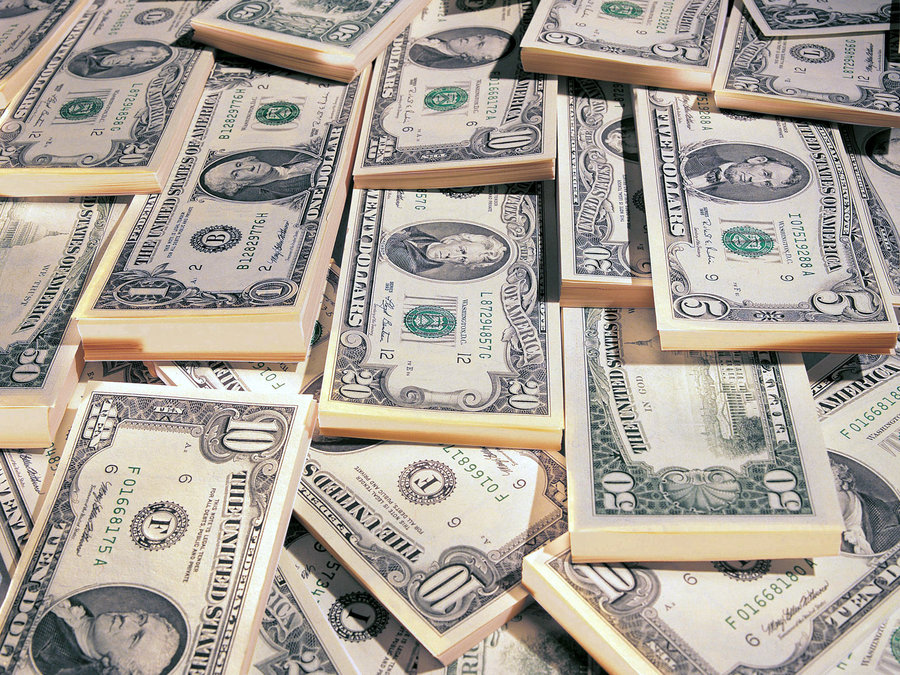 Total corporate funding in Q2 2016 was at its lowest level in three years, as "the solar industry continues to experience weakness," according to Mercom Capital Group's latest report and Raj Prabhu, CEO and co-founder of the Austin Texas-based market intelligence group.
In addition, total corporate funding in the solar sector in Q2 2016 was at US$1.7 billion – a significant loss compared to the US$5.9 billion of funding in the second quarter of last year. Given the tax calendar, it is not surprising however that Q2 total corporate funding experienced a 41% drop compared to the US$2.8 billion raised in Q1 2016.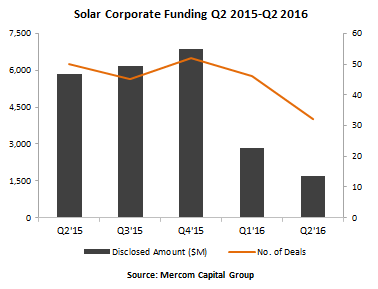 On the upside, it was a good quarter for residential and commercial solar funds, with US$1.36 billion raised in 11 deals – a 36% increase over the US$1 billion raised in six deals in the previous quarter. The financing in this segment was led by key residential installer SolarCity, former crowdfunding start-up Mosaic, and Sunnova Energy. Of that total fund, US$800 million went towards the lease model and US$555 million was allocated to loan funds. The residential/commercial solar sector has been well-backed by corporate financers since 2009; where almost US$20 billion has been filtered into this market segment.
Solar project acquisitions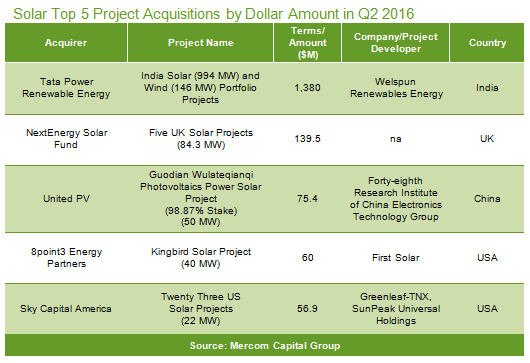 On the consolidation side, there were 17 M&A transactions in Q2 2016 – a slight increase on the 14 in Q1 2016. Eight of those deals were attributed to solar downstream companies, with the remaining five from balance of system (BOS) manufacturers and distributers.
A key deal for the quarter was the Sungevity merger with Easterly Acquisition Corp valued at US$357 million.
More than 2GW of solar projects were acquired in the second quarter compared to the slightly higher 2.4GW in the previous quarter.
The largest disclosed project acquisition in this quarter was the US$1.4 billion Welspun Renewables acquisition by Tata Power Renewable Energy, a Tata Power subsidiary. The acquisition included a takeover of the 1,140MW (994MW and 146MW of wind) project pipeline.
Notably, 8point3 Energy Partners, a yieldco formed by First Solar and SunPower acquired an interest in the 40 MW Kingbird solar project located in Kern County, California, from First Solar, for US$60 million.
In addition to the 38 large-scale solar project acquisitions (13 disclosed for US$1.9 billion) in Q2 2016, compared to Q1 2016 with 50 transactions (22 disclosed for US$1.2 billion), Mercom also tracked 196 new large-scale project announcements in Q2 2016 totalling 11.3GW.
Large-scale project funding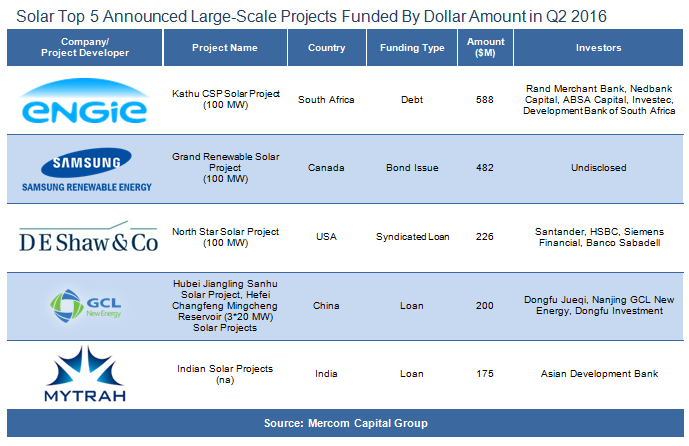 The biggest large-scale project funding deal this quarter was the US$588 million secured by Engie for its 100MW Kathu concentrated solar plant (CSP) project in South Africa.
Disclosed debt financing amounted to US$1.3 billion in 12 deals in Q2 2016 – a decline on the US$2.3 billion raised in 18 deals in the previous quarter, and an even steeper decline on the US$3.4 billion raised in 14 deals in the same quarter of the previous year.
Solar public market financing in Q2 2016 came to US$179 million in four deals compared to $94 million in four deals in the first quarter of 2016 and US$2.3 billion in 12 deals in Q2 2015.
Global venture capital funding (including private equity) was also on the downturn this quarter with US$174 million in 16 deals compared to US$406 million in 23 deals in Q1 2016. However, year-over-year venture capital figures fared better in comparison to the US$142 million in 24 deals in Q2 2015. 64% of the overall venture capital funding in Q2 2016 came from downstream companies with US$112 million across seven deals. A key contributor to this is the US$100 million raised by Silicon Ranch from private equity firm Partners Group.