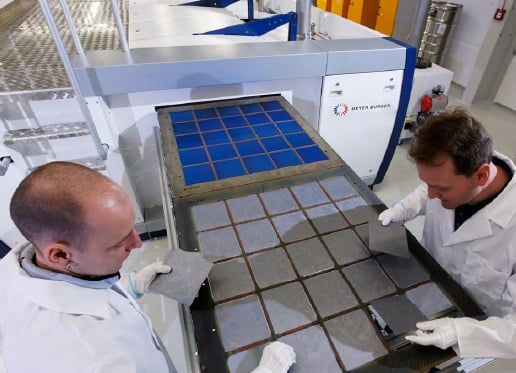 Leading PV manufacturing equipment supplier Meyer Burger Technology has added a further CHF 19 million (US$19.01 million) in PERC (Passivated Emitter Rear Contact) cell technology upgrade orders and diamond wire tools to its backlog.
Meyer Burger recently secured orders from two existing customers based in Asia for PERC-based MAiA 2.1 platform, valued at around US$19.6 million.
The company has since added a similar figure from a three different Asia-based customers. However, the orders also include its DW 288 Series 3 diamond wire cutting technology and SiNA cell coating equipment.
As with the recent orders, Meyer Burger expects to delivery, installation and commissioning to start in the second quarter of 2017. The company did not say whether the orders were attributed to its 2016 order backlog, unlike the other recent orders.
Meyer Burger had previously reported incoming orders for the first nine months of 2016 of CHF 358.5 million (US$367.2 million).
As recently reported by PV Tech, significant momentum is building for a shift from conventional BSF (Back Side Field) cell processes to PERC with both mono and multi-wafer adoption to lower production costs and increase cell efficiencies.
According to PV Tech's in house analysis, PERC solar cell upgrades at existing facilities that were officially announced by manufacturers totalled only 460MW in 2015. However, in 2016, PERC upgrade announcements reached around 2,500MW.
According to Taiwan-based solar market research firm EnergyTrend, solar cell manufacturing capacity dedicated to PERC technology is expected to almost double in 2017, reaching around 25GW.
As a benchmarking event for any company in PV manufacturing today, PV CellTech will again prove to be the one event not to miss on the PV calendar for 2017. Details on how to register for the event, and much more on the March 2017 speakers and topics, can be found through this link.