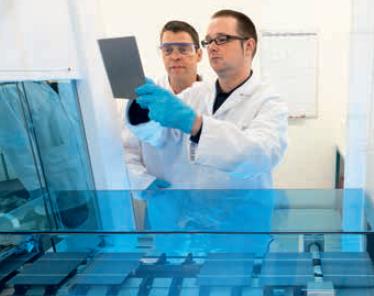 Major PV manufacturing equipment firm Meyer Burger has secured two new orders valued at over US$21.6 million in January 2016, while reporting preliminary 2015 sales of around US$318.7 million.
New order intake of over CHF22 million (US$21.6 million) in January 2016 included an order for its DW 288 diamond wire ingot/wafer cutting technology, said to be for a leading Asian manufacturer of monocrystalline solar wafers.
A second order, said to be from a major solar cell manufacturer in Asia, was placed with the equipment supplier for its MAiA 2.1 platform, used for PERC (passivated emitter rear cell) applications.
Preliminary 2015 financial results
Meyer Burger reported preliminary 2015 sales of CHF323.6 million (US$318.7 million), meeting previously lowered guidance range of CHF290 million to CHF340 million, due to order completion delays from a major customer that Meyer Burger said would push out into 2016.
Incoming orders totalled CHF418.9 million (US$412.6 million), representing an increase of 28.5% over the previous year.
Meyer Burger also reported a 35.5% year-on-year increase in its order backlog, which stood at CHF 257.5 million (US$253.7 million) at year end.
The company acknowledged that the PV equipment order environment was improving as manufacturers added new capacity and focused capital expenditure on technologies that would enable solar cell efficiency upgrades such as PERC.
Meyer Burger did not provide an update on other financial metrics such as profitability for the year. Previously, the company said that with sales guided between CHF290 million to CHF340 million, a negative EBITDA of between CHF40 million to CHF65 million (US$39.7 million to US$64.5 million was expected for 2015.