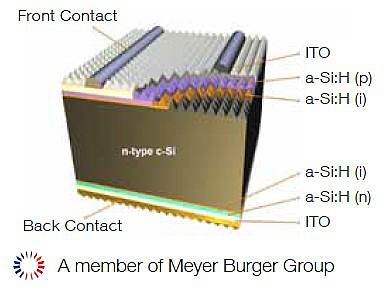 Despite year-end push outs for PERC upgrades, Meyer Burger was comfortably the leading PV equipment supplier by recognised revenues for 2015, marking the end-point of a challenging repositioning in strategy for capital equipment supply to the PV industry in the past four years.
Meyer Burger was one of the major beneficiaries during the previous (but somewhat artificial) PV capex upturn cycle of 2008-2011, alongside companies such as Centrotherm, GT Advanced Technologies and Applied Materials. Back in those days, jostling for leading PV equipment supplier status had an entry ticket of at least US$1 billion annual revenues. Today, the numbers are much more humble, but importantly, seeing moderate year-on-year increases.
What makes Meyer Burger's return to pole position particularly interesting is that, this time around, the revenue pull has not come from Meyer Burger's legacy organic-based wire saws, but from the PECVD based technology tool set that came through the acquisition a few years ago of Roth and Rau.
Few equipment suppliers have managed to make a transition across the value-chain in the past, far less have dominant market-share status, and in this respect, much credit has to be given to Meyer Burger.
The main driver of course was the saturation and oversupply of the wafering segment that had been Meyer Burger's core competence in the past. But to say that the market for c-Si cell PECVD tools simply rebound at around this time is certainly not the case. In fact, the route back into PV through the Roth and Rau PECVD tools was not via the traditional new line installs, but from technology upgrades.
This makes the achievements all the more impressive. During the last 10 years, PV equipment suppliers have constantly been pushing upgrades to the PV industry, mostly when orders for new line tooling had dried up. Few of these attempts have succeeded, with Applied Materials screen-printing upgrades for front side metallization being one of the isolated cases over the last three years.
Meyer Burger's rebirth in PV today has come from being the clear market-leader in supplying PECVD tools for PERC upgrades, and new line installs going for PERC from the start. In fact, it is hard to see how PERC could have the importance today in the solar industry, were it not for Meyer Burger.
In fact, the company's main competitor for PECVD tools in the past, Centrotherm, is still coming out of its prolonged operational restructuring and has not been in a position to compete as strongly as it did in the past.
Chinese PECVD tool suppliers, that started to see traction in the domestic market just as the c-Si cell segment went into overcapacity, are not considered viable options in the PERC market today owing to the process complexity and the requirement to fully understand how the multiple-PERC changes can be optimized on-site.
However, with every opportunity comes challenges, and Meyer Burger has no shortage of these today. Granted, having a strong order book, and being the supplier-of-choice for the key tool in the new hot upgrade route in the industry that is PERC, is a good problem to have and every other PV equipment supplier would give their right arm to have this problem today!
From the PERC side, the challenges are rather obvious, and ones that any capital equipment supplier has to face when introducing a new tool that everyone wants tomorrow:
• How do you regulate in-house manufacturing output, while keeping up the significant levels of R&D that are necessary?
• When do you press the button on stepping up per-week tool shipments, particularly when the solar industry capex swings of the past have been severe enough to take a tool supplier from hero-to-zero overnight?
• What resources are put into the interaction with other key tool types (such as the laser process that has its own set of process challenges), not to mention getting the entire cell line re-tweaked for overall efficiency gains?
But the bigger question probably relates to whether you put all your eggs in one basket and go full-steam ahead with PERC, or retain a more cautious approach to having a diversified tool set. And this is where there are probably daily strategy meetings taking place at Meyer Burger: the answer is far from easy.
Here, we probably come up against the one question mark today with Meyer Burger in terms of the approach for c-Si cell equipment supply, in terms of ring fencing heterojunction as the platform to grow or diversify from PERC (or simply PECVD) tool supply.
Last week at our PV CellTech conference in Kuala Lumpur, one of the massive takeaways related to the huge efficiency improvements for p-type mono and multi, and the debate often centred around whether this made some of the n-type variants now obsolete. That question is, and will always be, debated, but what you can't argue with is that p-type advances can only push out any large scale transition to heterojunction line builds from the existing GW cell leaders.
So, in this respect, having heterojunction tooling as a key in-house strategy is probably a good thing, but the key question is what your expectations are for revenues coming from this in the next 2-3 years. And whether allocating considerable in-house resource to heterojunction will have an adverse effect on the low-hanging fruit today – PERC.
Ironically, the one company that may do more to push out any heterojunction interest from the mainstream p-type c-Si cell manufacturing industry is Meyer Burger, due to PERC on p-type! So the timing of in-house resources to PERC and heterojunction could be the most important thing for Meyer Burger in the next 12 months. Again, what a nice problem to have today!
The other niggling thing about the heterojunction push relates to the turn-key nature of the strategy, and just how this fits into any long-term strategy.
Turn-key lines are great for initial new-entry activity, but they form big lumpy sales cycles and can become fraught with problems on-site and delays in revenue recognition. If you look across leading capital equipment suppliers in all industries, the winning tool suppliers are process tool specific. But this is probably one to park to the side for a few years. If you can get 3-5 new heterojunction entrants in a two-year period, it would be hard to argue that this was not an unenviable position to be in!
In summary though, it is great to be hearing a major capital equipment supplier like Meyer Burger being so active in driving new technology into the c-Si cell segment, and having the courage to provide a five-year goal to return to the billion-dollar turnover space as a major player in PV equipment supply.
The solar industry – and indeed Meyer Burger itself – would surely benefit from a few more capital equipment suppliers having similar long-term technology-based strategies. Now, doesn't that sound like a theme for PV CellTech 2017!