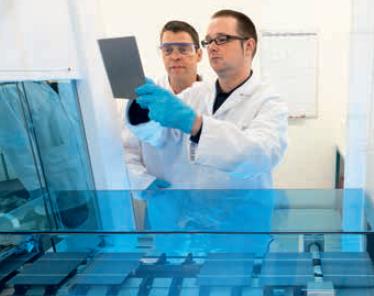 Leading PV manufacturing equipment supplier Meyer Burger Technology has provided full-year 2016 revenue guidance that indicates a minimum increase of around 26%, compared with 2015.
Meyer Burger said that it expected net sales in 2016 to be in a range of CHF420-450 million (US$430 million to US$460.9 million) and a positive EBITDA of about CHF10-20 million (US$10.2 million to US$20.5 million).
The company also announced a major equipment order for heterojunction technology valued at around US$74 million.
Meyer Burger had reported net 2015 sales of CHF323.6 million (US$333.8 million) and a negative EBITDA of CHF 55.9 million (US$57.6 million).
A recent round of restructuring was said to be primarily responsible for the expected net profit, which was said to have lowered its breakeven point by around CHF50 million (US$51.7 million).
Financial results
Meyer Burger reported preliminary unaudited results for the first nine months of 2016, including net sales of CHF336.1 million (US$344.5 million). This equates to third quarter sales of around US$126.7 million. Meyer Burger had previously reported first half year sales of CHF217.8 million (US$226.4 million).
Incoming orders for the first nine months of 2016 reached CHF358.5 million (US$367.2 million). This equates to incoming orders in the third quarter of around US$88.9 million, indicating an expected slowdown in new orders assigned to backlog compared to the first half of the year. Incoming orders in the first half of 2016 reached CHF267.8 million (US$278.3 million).
Meyer Burger reported a positive EBITDA of CHF13.9 million (US$14.2 million) in the first nine months 2016.
Our hugely successful PVCellTech event returns on 14-15 March, Penang, Malaysia. The speaker list includes CTOs and executives from leading solar manufacturing powers including JA Solar, DuPont, GCL Poly, Meyer Burger and Hanwha Q CELLS. Download the agenda now!