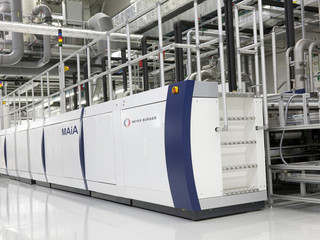 Leading PV manufacturing equipment supplier Meyer Burger Technology has secured a major order from an existing PV manufacturing customer in China to deploy its PERC (Passivated Emitter Rear Contact) cell technology upgrade tools.
The new order, valued at CHF 24 million (US$23.7 million) was said to be the first in an overall framework contract with the customer.
Meyer Burger said that the significant order was for the delivery and installation of its MAiA 2.1 PECVD deposition technology platform.
The delivery and commissioning of the equipment is scheduled for the second quarter of 2017.
According to Taiwan-based solar market research firm EnergyTrend, solar cell manufacturing capacity dedicated to PERC technology is expected to almost double in 2017, reaching around 25GW.