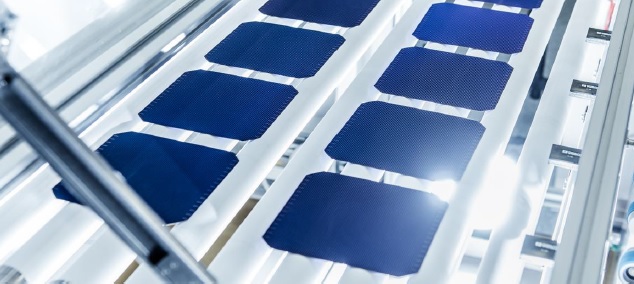 Leading PV manufacturing equipment supplier Meyer Burger has reported a 15% increase in new orders in the first half of 2017, driven by a strong technology buy-cycle in wafer and solar cell sectors.
A key highlight of Meyer Burger's first half year financial results was strong incoming orders of CHF 308.5 million (US$316.6 million), a 15% increase over the prior year period.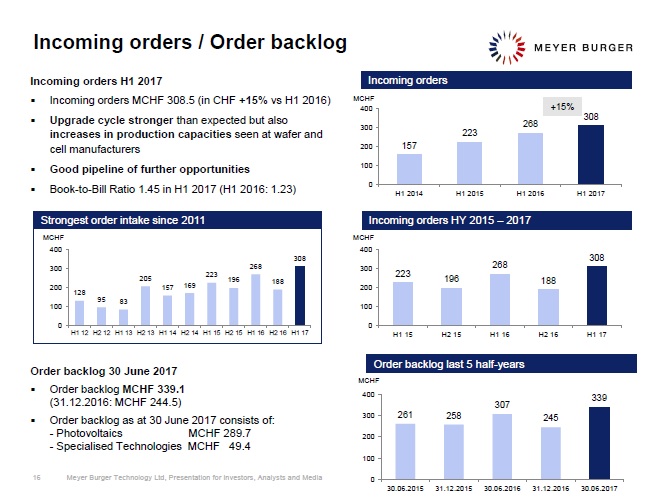 This has been driven by the continued migration by leading solar wafer producers such as GCL-Poly in the multicrystalline sector and LONGi Green Energy in the monocrystalline sector to diamond wire technology that significantly lowers production costs, boosts throughput and overall capacity. 'Silicon Module Super League' (SMSL) members, such as JinkoSolar and Canadian Solar have also been heavily spending on diamond wire technology to drive down their average blended production costs.
The migration to PERC (Passivated Emitter Rear Cell) technology for both multi and mono solar cells has also been a major contributor to Meyer Burgers new order intake, which has been driven by SMSL members such as JinkoSolar, JA Solar, Canadian Solar, Hanwha Q CELLS and LONGi Solar.
Recently, Meyer Burger announced that LONGi Solar Technology, the PV module manufacturing arm of leading monocrystalline wafer producer LONGi Green Energy Technology had become the first customer of its double-side PERC (Passivated Emitter Rear Cell) coating platform, 'MAiA EVO', which is designed to lower PERC processing costs significantly.
The major technology buy-cycle is occurring in tandem with a significant capacity expansion phase, primarily in China and Southeast Asia that includes SMSL members and relatively new entrants such as Jollywood.
As a result, Meyer Burger's order backlog reached CHF 339.1 million (US$348 million) at the end of the second quarter, compared to CHF 244.5 million (US$250.9 million) in the prior year period.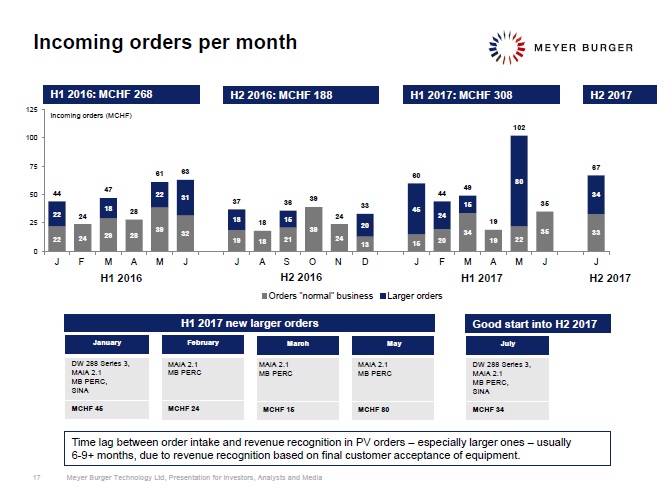 Financial results
Meyer Burger reported net sales of CHF 212.3 million (US$217.9 million) in the first half of 2017, down 2.5% from the prior period.
However, ongoing restructuring activities have yet to achieve the objective of returning the company to sustainable profitability.
The company reported EBITDA of CHF 6.9 million (US$7.08 million) in the first half of 2017 and an EBIT negative CHF 8.8 million (US$9.03 million), down from a negative EBIT of CHF 20.8 million in the prior year period.
Net financial loss was CHF 7.4 million (US$7.59 million), compared to a net loss of CHF 7.9 million in the prior year period. Total loss in the reporting period was CHF 17.0 million (US$17.45 million), compared to CHF 25.6 million in the prior year period.
Guidance
Meyer Burger noted that due to strong incoming orders, high order backlog coupled to substantial deliveries and expected customer tool acceptances that were scheduled for November and December 2017, full-year sales would be in the range of CHF 440-460 million (US$451 million to US$472 million).
The company expects EBITDA of about CHF 30-45 million (US$30 million to US$46 million) for 2017.