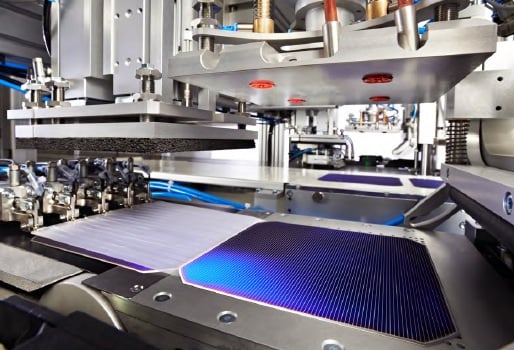 Leading PV manufacturing equipment supplier Meyer Burger reported a significant increase in revenue in 2016, due to the start of major technology upgrade and capacity expansion cycle by PV manufacturers primarily in the ingot/wafer and solar cell upstream segments.
Meyer Burger reported 2016 sales of CHF 453.1 million (US$456.1 million), up 40% from the previous year. Sales in 2016 were the second highest since the capacity expansion boom ended in 2012, when sales topped CHF 645.2 million.

Incoming orders in 2016 were fuelled by strong demand for upgrade technologies such as diamond wire saws (DWS) and PERC (Passivated Emitter Rear Contact) cell technologies, which has extended through the first quarter of 2017.
On a geographical basis, sales in Asia accounted 72% of total sales in 2016, up from 63% in 2015. Europe remained stable at 23% of total sales, compared to 22% in 2015. The US only accounted for 5% of sales in 2016, compared to 15% in the previous year.
New orders rose by 9% to CHF 455.6 million (US$455.5 million), compared to CHF 418.9 million in 2015. Notable orders included DWS, Heterojunction, 'SmartWire Connection' as well as MB PERC / MAiA technologies that totalled around CHF 146 million, up from CHF 142 million in the previous year.
Meyer Burger reported an order backlog for 2016 of CHF 244.5 million (US$246.1 million), down slightly from CHF 257.5 million in 2015.

Business restructuring and strong sales enabled Meyer Burger to report EBITDA of CHF 10.5 million (US$10.56 million), compared to a negative EBITDA of CHF 55.9 million in 2015. Net loss was CHF 97.1 million (US$97.7 million) in 2016, compared to a net loss of CHF 169 million in the previous year.
Meyer Burger reported that its R&D spending in 2016, accounted for around 10.3% of net sales with spending reaching CHF 46.7 million (US$47 million), compared to CHF 55.7 million and 17.2% of net sales in 2015. The reduction was partially due to lower R&D headcount of 307, compared to 338 in 2015.
Meyer Burger expects 2017 sales to be in the same region as 2016 but with further improvements in profitability.