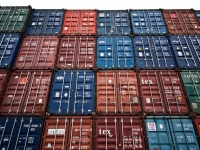 The removal of another five Chinese companies from the EU's price undertaking is further demonstration of the mechanism's failure, according to the CEO of trade group SolarPower Europe.
As part of the undertaking, which allows Chinese firms to do business without paying punitive trade duties, a minimum import price (MIP) was set. Structural issues with the way that floating price is calculated mean it is heavily influenced by currency distortions. As a result, it has been set at €0.56/W, well above global averages.
This week, a further three firms withdrew while another two were removed by the European Commission as it felt it was not possible to sufficiently monitor their transactions.
"The MIP is clearly failing to function anymore, many Chinese companies are now voluntarily leaving it, as the price no longer bears the slightest resemblance to market prices for solar in the world or in Europe today," said James Watson, CEO, SolarPower Europe. "European module manufacturers, like everyone else in the world, have also been successful in reducing costs and we are seeing quotes of less than €0.48/W from some players in Europe. Therefore, the maintenance of the price at €0.56/W means that it is becoming obsolete."
The continuation of the measures against Chinese firms, that were found by the Commission to be dumping cells and modules in a 2013 investigation, is currently up for review. A decision is expected in the new year.
Earlier this week, EU ProSun, the trade lobby group backed by German manufacturer SolarWorld, and the complainant in the original case against Chinese firms, said installers backed the measures' continuation. Watson, whose organisation includes a number of Chinese firms, cast doubt on the veracity of the claims by EU ProSun.
"The study does not appear to bear any resemblance to reality and as we understand the European Commission considers the authenticity of figures in a very strict way, I doubt that anyone will be taking an interest in these non-findings.
"Earlier this year the European Association of Electrical Installers, representing over 1,000,000 installers and over 100,000 SMEs, supported our initiative to remove the trade measures on Chinese modules and cells through the expiry review. Given this weight of sentiment from the only legitimate European voice of installers it is clear that the installers are unambiguous in their support for the removal of the trade measures," he added.