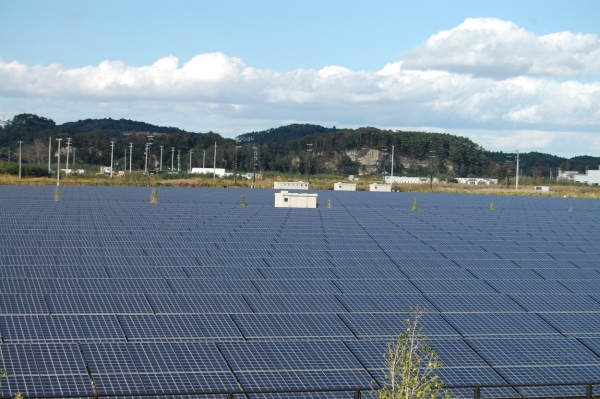 A joint venture formed by Morgan Stanley and Japan's Mitsubishi UFJ Financial Group will invest in Japanese PV plants and use research by Mitsubishi Research Institute to improve the performance of existing generation facilities.
The research institute released a statement in Japanese on Tuesday, which said an agreement had been signed for a fund of "mega solar power generation business", with Mitsubishi UFJ Morgan Stanley Securities. In Japan large-scale, multiple-megawatt PV plants are known as "mega solar".
The release said that the agreement sought to combine accumulated knowledge of the institute and business experience for the Morgan Stanley-Mitsubishi UFJ joint venture (JV). The research institute went on to say that the JV would be looking for new PV plant businesses, at various stages of development.
With around 20GW of PV thought to be installed since the country's feed-in tariff (FiT) was introduced in 2012, Mitsubishi Research Institute referred to this rapid expansion but also alluded to a problem that many have feared could stifle further development – the shortage of available land for utility-scale, ground mount solar power stations.
Dealing with Japan's 57GW PV 'backlog'
The two groups said they would use the fund to acquire solar plants at various phases of their construction. Japan has around 57GW of PV previously approved for the FiT that has yet to be built. Due to land, grid constraints and other factors including political, it seems unlikely the government will approve further large amounts of utility-scale PV, meaning that much of that 57GW backlog is now changing hands between developers and would-be owners and operators.
Mitsubishi Research Institute said that such ventures were important to create new investment opportunities while satisfying principles for responsible investment (PRI). It said it hoped to appeal to institutional investors including pension funds.
While the research institute's release did not put figures on the agreement, Japan's Nikkei newspaper reported that the fund would be worth Y50 billion (US$426 million) and said it would involve "more than 10 power plants over three years" that would have a generation capacity of more than 100MW. The report for Nikkei was unsourced, as is often the case with newspaper reports in Japan.
The newspaper also reported – which again did not appear to be mentioned directly in the Japanese language release from MRI – that part of the plan was to buy ailing projects from the 57GW backlog where the owners were perhaps not well versed in PV plant technology or business and had invested in solar due to the generous FiT regime.
"…Many facilities fell short of their expected generating capacity due to cheap foreign solar cells or poor maintenance, and are on the market even before the 20-year program is up," Nikkei claimed.
PV Tech spoke with Mitsubishi UFJ Morgan Stanley's corporate communications department this morning, Japanese time and asked for the Nikkei story to either be confirmed or denied, also sending an emailed enquiry as requested by the investment house. We await their response.