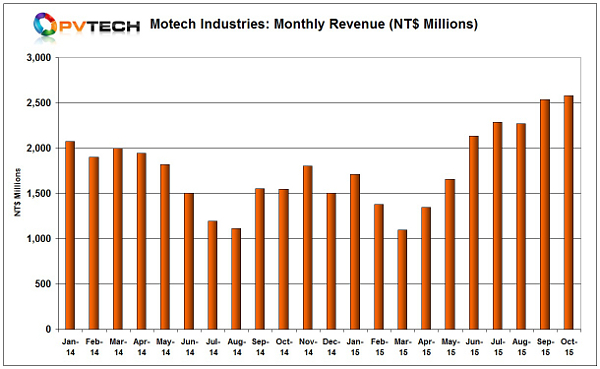 Major Taiwan-based merchant solar cell producer Motech Industries has reported record sales for October, 2015.
Motech reported record October sales of NT$2,584 million (US$79.5 million), an increase of 1.76% over the previous month and up 66.74% year-on-year.
The company had third quarter revenue of NT$7.098 billion (US$218.4 million).
Motech's sales have benefited from its merger with Topcell Solar in 2015.
A fire was said to have occurred at an idled processing tool at its FAB 5 production facility in Tainan Science Park on November 5, 2015 but was said to have been quickly extinguished and would have little impact on production and did not cause any injuries.
The cause of the tool fire was yet to be ascertained, according to the company.
The company is also expanding module production at a subsidiary in China by around 300MW.