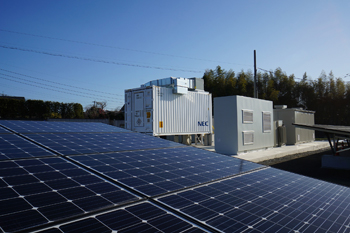 Utility-scale solar projects in a region of Japan affected by fears of grid capacity constraints have been supplied with energy storage, aimed at mitigating the potential effects of output curtailment.
Four PV plants totalling 2.5MW capacity, each of 500kW, are being built on the southern island of Kyushu, which was in the news over the past week when it was hit by two earthquakes. The island's utility is thought to have been the first in Japan to apply rules allowing regional power companies, which are also Japan's grid operators, to curtail the output from a PV generation facility.
The powers of curtailment, which allow for a period of uncompensated curtailment, were part of a raft of new rules brought into effect in response to five of the 10 power companies' temporary suspensions of new grid connection applications for solar.
The suspensions began with Kyushu's Kyuhsu Electric in October 2014 and ended after the government's Ministry of Economy, Trade and Industry (METI) set up a 'working group' to figure out how much capacity each region's service area would have available. In December last year Kyushu Electric said it had already arrived at 5GW of an 8GW limit and in February curtailed the output from a utility-scale solar farm.
Curtailment fears causing investment uncertainty
The plants are being built by Colon, a Japanese manufacturer of plastic components including camera parts. Colon like many companies in Japan, does not hold energy services as a core business but has entered the feed-in tariff (FiT) driven market to generate and sell power to utilities.
NEC Energy Solutions supplied a 500kW/1.2MWh lithium-ion battery-based energy storage system built on its GSS platform to Colon. The company claims its high density storage systems have an effective heat dissipation structure using racks and modules that are proprietary.
NEC ES' CEO Bud Collins said the company was committed to providing "stable power solutions" and said it has 120MW of energy storage in operation worldwide.
NEC ES said its system could help stabilise fluctuations in power from the plants, while Japanese newspaper Nikkei's technology pages reported that the system provided to Colon will specifically be used to verify the case for using energy storage to 'absorb' excess generation that cannot be accepted by the grid.
While the curtailments have been limited so far, fears of the impact on returns from feed-in tariff (FiT) accredited projects has caused uncertainty among investors and some commentators, including project developers, have said that it was harder to raise capital for projects in 2015 as a consequence.