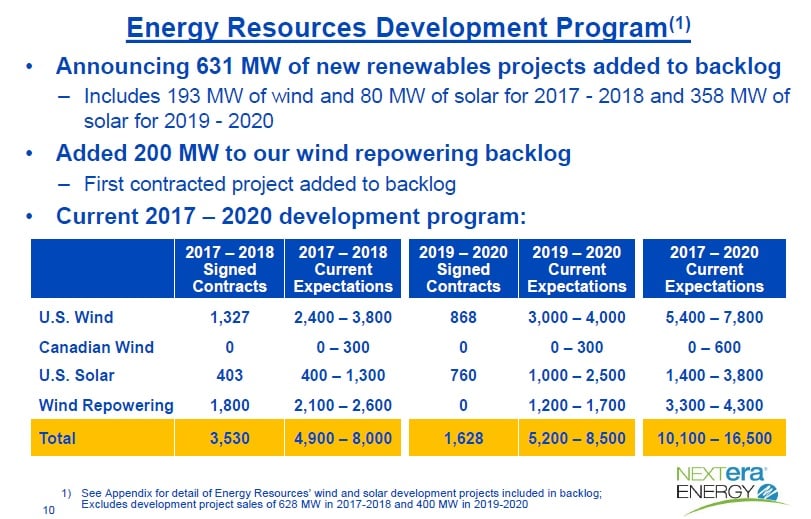 US-based clean energy project developer NextEra Energy Partners a subsidiary of NextEra Energy and Florida Power & Light are continuing to add solar PV power plant plans to their pipelines, despite the looming ITC 'Section 201' trade case.
In reporting second quarter 2017 financial results, NextEra had a total of 403MW of PV projects under contract in the 2017/18 timeline, up 80MW in the last couple of months and 358MW of solar for the 2019/20 period.
FPL expects to complete eight 74.5MW PV projects by the first quarter of 2018, which equates to around 600MW and 2.5 million solar modules. Around 300MW is expected to be competed by the fourth quarter of 2017 and the remaining 300MW completed and grid connected in the first quarter of 2018.
These projects should not be impacted by any final ruling on the Suniva and SolarWorld Americas petition, which will be sent to President Trump for a decision on further PV module import duties or price capping as the modules would have already entered the US ahead of any action being taken.
However, NextEra Energy Partners and FPL project pipelines in 2018 through 2020 have not been revised, due to the overhang of the Section 201 case, according to management in NextEra Energy Partners latest quarterly earnings call.
FPL recently noted at its June, 2017 annual investor conference that it was developing PV power plant plans and evaluating potential locations throughout Florida for the 2019 to 2023 time and that it had currently secured around 3.8GW of possible PV capacity at 58 potential solar throughout 19 counties in Florida for up to 2020.
Not surprisingly, NextEra Energy Partners management were asked by financial analysts as to the impact the latest ITC case would have on its PV pipeline.
Management noted that PV module manufacturers did not want to give up on the US solar market and therefore would figure out ways to support the US market. Management also noted that any actions by module suppliers would of course take a little time to be implement but NextEra was not worried about the long-term implications of any ITC case.
James Robo, CEO, president and chairman of Florida Power & Light Company said, "We'll see what happens on that case. Obviously, we're following closely. My own view on this is that markets adjust and this is a very competitive market out there for manufacturing panels that the panel manufacturers are not going to abandon this market and they'll figure out a way to compete and it may take a little bit but fundamentally, I'm not worried about the long term implications of whatever happens with the ITC there."
The inference from NextEra management response is that PV module manufacturers such as JinkoSolar and Hanwha Q CELLS, both having been major module suppliers to NextEra would be considering the location of manufacturing operations in the US to circumvent any new import rulings that would raise module prices.