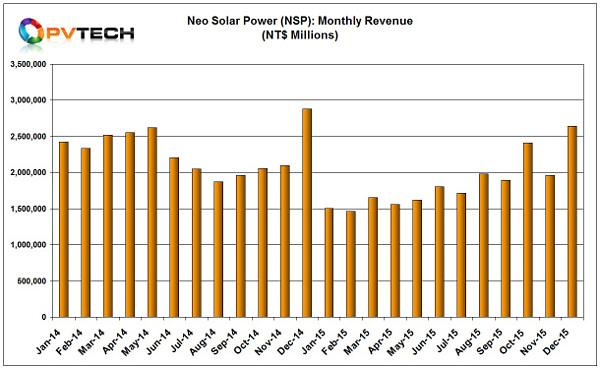 Major Taiwan-based merchant solar cell producer Neo Solar Power (NSP) has reported its second highest monthly sales in December, 2015 over the last two-years.
NSP reported December, 2015 revenue of NT$2,640 million (US$79.2 million), up 34.5% from the previous month.
Monthly and therefore quarterly sales in 2015 have proved erratic for the solar cell producer. Preliminary, fourth quarter sales were around NT$7,011 million (US$201.3 million) an increase of 25.5%, quarter-on-quarter
Erratic sales also impacted preliminary 2015 full-year sales, which reached around NT$22,215 million (US$666.65 million), compared to NT$27,580 million in 2014, nearly a 20% decline.