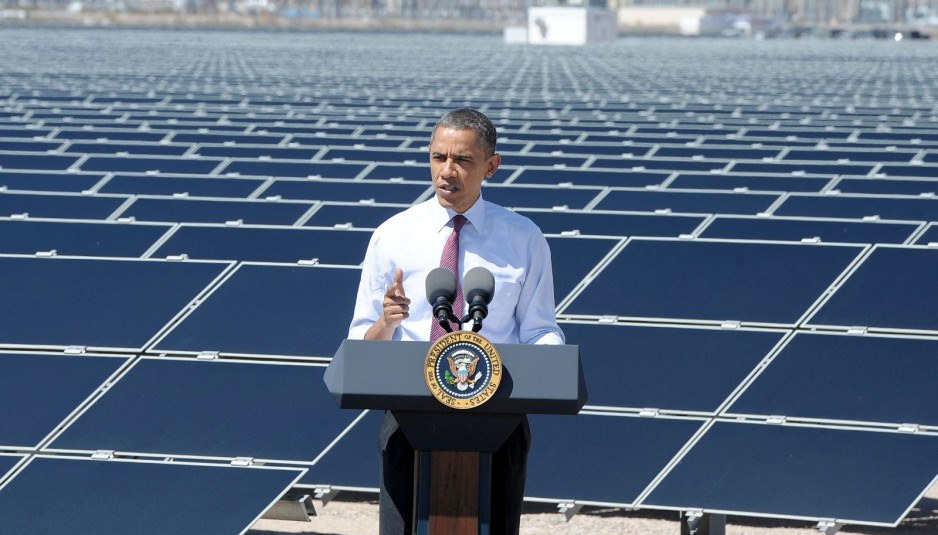 A new US government solar initiative that aims to expand low-income access to solar, has the potential to "unlock huge new markets" crucial to reaching the nation's ambitous renewable energy goals, according to analysts.
Yesterday, the Obama Administration announced the Clean Energy Savings For All Initiative; a collaboration between the Department of Energy (DOE), Housing and Urban Development and other departments to expand access to solar across the nation, and in particular, in low-and-moderate income communities.
The core aim of the Initiative is to ensure that every household in America has the option to go solar, as well as to promote energy efficiency. In light of this, the Administration has set a new goal to bring 1GW of solar to these demographics by 2020; a 10 fold increase of the initial 100MW target.
To achieve this, the Initiative will promote "innovative financing mechanisms", "bolster technical assistance" and scale up the workforce to allow individuals in low-and-moderate income communities to have the means to transition to a clean energy future.
"Lower-income households face a range of barriers to going solar, including being more likely to be renters or live in multi-tenant buildings, lacking access to financing, and owning property with deferred maintenance issues," Amit Ronen, director of the George Washington Solar Institute, told PV Tech. "The president's admirable 1GW goal will harness the tools the federal government can bring to bear to tackle these challenges and help ensure all Americans have access to the economic and environmental benefits of solar energy. Finding ways to enable lower-income Americans to benefit from solar will unlock huge new markets and is essential to reaching our national energy goals."
PACE financing
Property-Assessed Clean Energy (PACE) financing will be scaled-up to help achieve the new goal by increasing access to such financing to low-and-moderate income households. PACE allows homeowners to benefit from energy improvements with no upfront cost.
According to GTM Research, PACE is currently a little under 10% of the California residential market. This demonstrates the popularity of the mechanism; given California is one of the leading states in the country.
The Solar Energy Industries Association's (SEIA) interim president Tom Kimbis highlighted the importance of PACE financing under the initiative: "A critical component of the initiative is the issuance of clearer guidance on the use of property assessed clean energy ("PACE") financing. This guidance makes it easier for homeowners who go solar using PACE financing to use Federal Housing Authority (FHA) mortgage insurance and Veterans Affairs (VA)-insured mortgages. Strong public policy allowing more veterans and low and moderate income American households to go solar mirrors the commitment of the solar industry to these same communities."
Also on the finance front, the Initiative will assist the Low Income Home Energy Assistance Programme (LIHEAP), which provides, on average, more than US$3 billion a year to communities.
Community Solar
Further to achieving the new 1GW of solar energy goal, DOE is announcing a Community Solar Challenge that is to award teams in dozens of communities up to US$100,000 to develop measures to deploy community solar that will give access to clean energy to those that may not be able to utilise it by themselves, and also to cut communities' energy bills. To initiate this, the SunShot Initiative is releasing a request for information to conduct market research on the structure of the challenge. Currently, shared solar systems of 2MW or less with 40% low-and-moderate income subscribers, or solar systems that benefit that demographic, and solar for community assets will all be eligible under the scheme.
Community solar is a force to be reckoned with in the US as an up-and-coming phenomenon for solar. GTM Research is currently tracking 199 operating community solar projects spread across 27 states, with project development activity in a further nine states.
In addition, under the Initiative, there will be a series of convenings to expand access to financing for community solar; including working with banks and regulators and hosting energy savings summits.
Scaling-up the workforce
Because it would be redundant to expand access to solar for low-and-moderate income communities without ensuring they have the tools to take advantage of such access, the Initiative aims to continue enhancing employment opportunities for all Americans.
To this end, DOE is launching the Solar Training Network – to connect trainers, solar employers and individuals interested in working in the solar industry. The programme is to be administered by the Solar Foundation, which will be responsible for pooling resources and stakeholders, as well as establishing a Solar Jobs Strategy Commission that will foster an exchange of knowledge between training providers and the industry.
Specifically in Maryland, which has had controversial regulatory measures that negatively affected the renewable energy workforce, the DOE is creating a Community and Workforce Investment programme. This will create new employment opportunities and train residents for solar jobs. DOE's Initiative will also install panels on low income homes and investigate the possibility of installing solar panels on public housing. To kick things off, yesterday, DOE, the City of Baltimore and the Maryland Clean Energy Centre signed a memorandum of understanding to accelerate the growth of solar jobs and prepare a roadmap or deployment.
State and private sector commitments to increase solar across America
To help reach the "new catalytic goal" of 1GW by 2020, the Administration has already collated as of yesterday, more than 120 new commitments from the private, state, local and philanthropic sectors in 36 states – representing US$287 million in investment and nearly 280MW in community solar and low income solar deployment. This brings the total amount of commitments secure to more than US$800 million and more than 491MW of solar power.
"From rural America to our nation's inner cities, everyone deserves the chance to participate in the solar revolution. The solar industry is ready to help America achieve – and surpass – the Administration's new goal of bringing one gigawatt of solar to low and moderate income families by 2020," said SEIA's Kimbis.