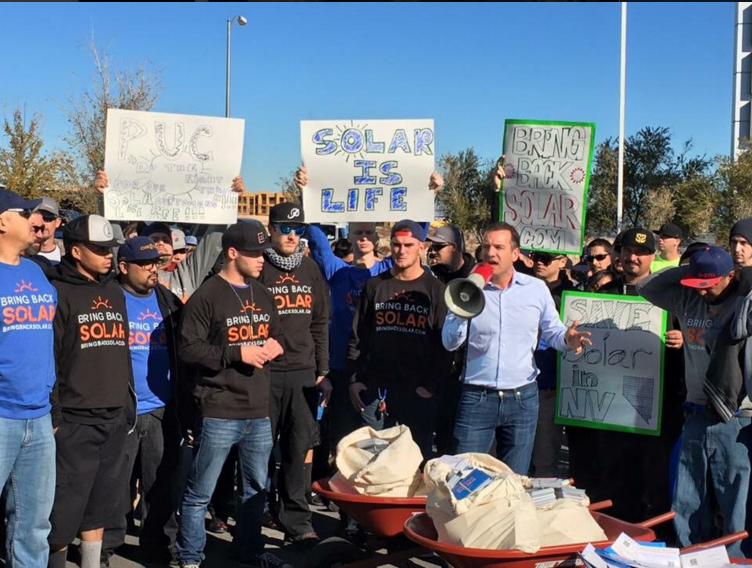 The vast majority of Nevadans support an effort to reverse the Nevada Public Utilities Commission's (NPUC) decision to implement new charges for net-metering.
An independent poll conducted by Global Strategy Group, a research and strategic communications firm, canvassed the opinions of 600 Nevadans and found that 73% of respondents would be supportive of a ballot measure that would undo the new rate structure.
The new rates, which were implemented on 1 January 2016, tripled fixed-fees for solar customers and slashed the amount of money that state utility NV Energy paid to consumers. The solar industry baulked at the unprecedented changes, with key players laying off workforce members, ceasing operations in the state and contentious proceedings ensuing.
The Global Strategy Group poll, commissioned by SolarCity-backed advocacy group Bring Back Solar, demonstrated that a majority of respondents have a favourable opinion of the rooftop solar industry; regardless of whether they have panels themselves or not. The poll showed overwhelming support for a ballot measure that would overturn the NPUC's new rate structure – a ballot measure which Bring Back Solar spent nearly US$2 million compiling.
"By wide margins, Nevadan voters want to bring rooftop solar back to Nevada, and to reverse the Nevada Public Utilities Commission's (PUC) recent decision to increase charges on solar customers. This support is broad, deep and robust and extends across all demographic and partisan groups," the poll report stated.
It also found that nearly three-fifths of voters see the rooftop solar energy industry favourably, with just 13% seeing it in a negative light. In addition, results show that voters would reward pro-rooftop solar legislators at the ballot box. The results have a four-point margin of error.
"I thought what was most interesting was the breadth and depth of support for rooftop solar, generally, and for overturning the PUC decision, specifically," said Andrew Baumann, in a statement to local press. Baumann conducted the poll from June 21 to June 26 for Global Strategy Group.
NV Energy's anti-rooftop solar campaign
Despite the backlash, NV Energy, the utility that is campaigning to keep the new rate structure, rejects the notion that the new rates could be depicted as "new charges". In fact, the utility's stance is that the NPUC decision effectively eliminated a burden imposed on non-solar customers, who were subsidising those well-heeled enough to take advantage of rooftop solar. NV Energy also spent more than US$1 million backing the group Citizens for Solar and Energy Fairness, who aired an advertisement throughout Nevada warning that "big rooftop solar" is trying to trick consumers into supporting a "government-mandated subsidy with no limits."
"What is private solar and net metering? Sounds like a good deal, right? Not so fast. Development of private solar is helping America meet its energy demands and giving consumers choices – both good things. But unfortunately, net metering policies haven't been updated in a long time, and they are creating an unfair playing field for consumers," a caption on the Solar and Energy Fairness website reads.
One reason for the commissioning of the poll was to assess how the favourability of the ballot measure fared in the face of such lobbying. According to local reports, when respondents were presented with nearly verbatim language from the ads and arguments, support for the measure slipped but by only three points. According to Baumann, that is "very, very small movement for something like this."
"After, you know, NV Energy has spent a million dollars or so attacking rooftop solar on TV," Baumann said, "it's pretty clear that those ads have had just about zero impact on the popularity of rooftop solar."
NV Energy is also purportedly contesting the Bring Back Solar ballot measure in court on the grounds that it does not meet the requirements of a referendum. The Nevada Supreme Court is set to rule on the validity of the ballot, which has received 115,000 signatures, in the next few weeks.
PV Tech contacted the NPUC for comment on the results of the poll, but they declined – reinforcing only that there will be an opportunity for parties to present new evidence regarding solar generation and net metering as early as this summer in the upcoming general rate cases.
The Global Strategy Group poll report can be viewed here.